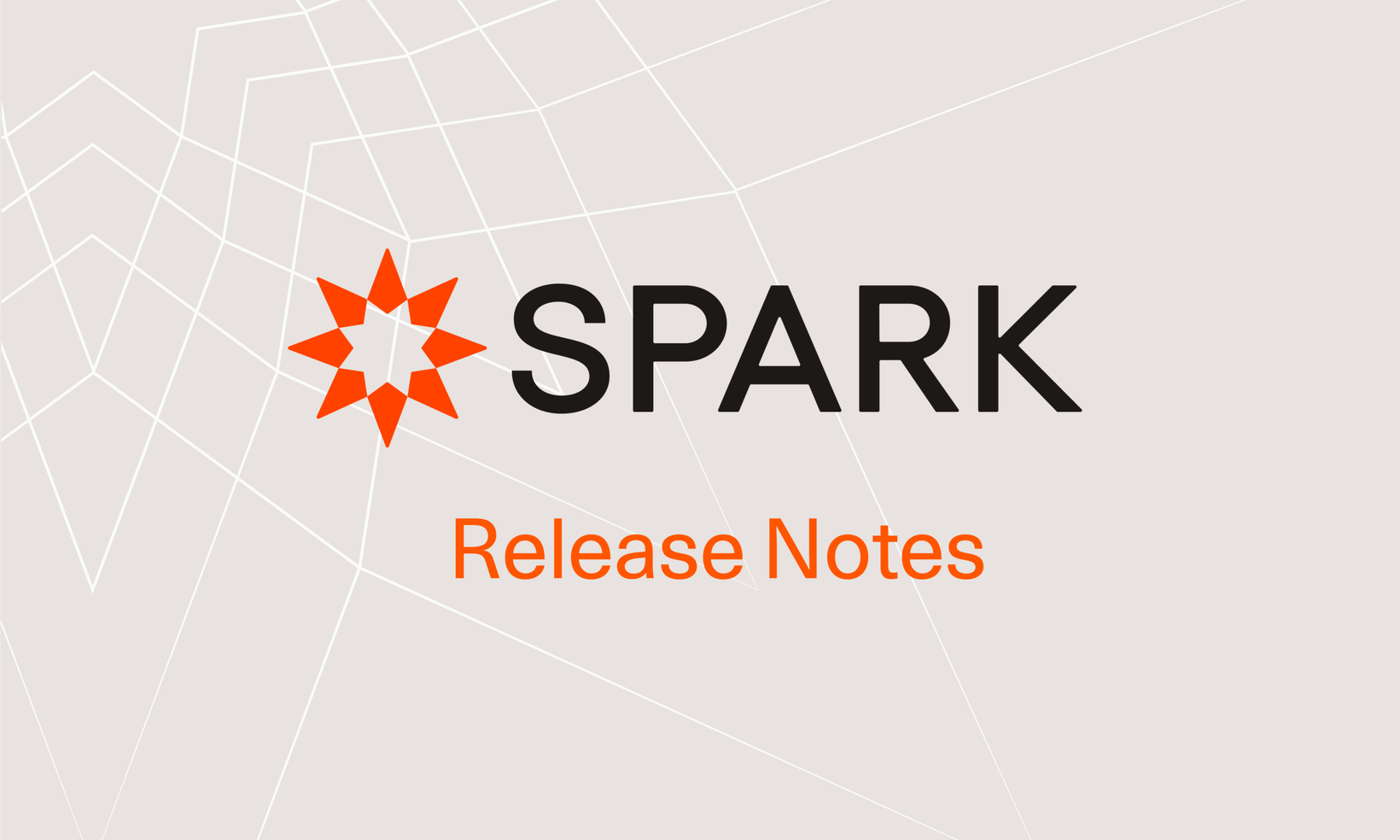 DATE:

AUTHOR:

The SPARK team
DATE:
AUTHOR: The SPARK team
Hi there,
On August 21, 2021, we'll be releasing SPARK 7.6, which comes loaded with new features, along with a brand new look-and-feel for your work experience. We've spent countless hours interviewing our users on ways to improve the SPARK experience, and after months of design, development, and testing, we're excited to share this update with our SPARK community.
What's New
Dashboards
The hallmark feature in SPARK 7.6 is a brand new homepage experience that simplifies your work experience in SPARK. Informed by our user interviews, we created these dashboards to provide you with the most relevant details about your package and work assignments. Every user can access these new dashboards from their legacy homepages. After SPARK 7.6 is released, you'll be prompted to create a new dashboard. Simply opt in and start working in and customizing your dashboard.
Dashboard Highlights
Each user has access to a Personal Dashboard, where you'll be able to customize your package views and easily find relevant tasks assigned to you.

Managers will have access to our Manager Dashboards. These dashboards offer a high-level view of your team's progress through any package stage, from Intake to Underwriting, Packaging, Closing, Packaging and Closing, and Funding. They also provide summary-level details on each team member's workload in SPARK.

Executives will have access to our Executive Dashboards, where you'll be able to monitor your business' performance in SPARK.

Our new To Do's panel aggregates all of your package assignments into one place. From packages pending review to decision requests, assigned tasks, and much more, all of your assigned work can now be accessed from your new dashboard. Read more about To Do's as we get closer to release.
Look and Feel
Accompanying our new dashboards is a much needed improvement to the general SPARK layout for both internal users and applicants. We've updated the global navigation and removed the clunky top package and admin navigation. You can also submit support tickets through the utility navigation located in the top right of your screen.
Team Configurations
For managers, we've made it easier than ever to manage your package team in SPARK. As a manager, you can now configure your package teams right from your new dashboard. Choose the roles you want on your team, change the name, and even filter for team members with assigned packages.
Profile Images
Along with the new team functionality in SPARK, you can now upload a profile picture and help your team members quickly identify who you are. Keep it serious, or have fun with it!
What's Changed
Financial Analysis - Sub Accounts
We made a small quality of life improvement to the financial analysis section of SPARK. When you add a sub account, you will no longer see a long list of sub accounts. Instead, you can start typing the name of the account you're looking for, and we'll show a list of matching sub accounts.
Guarantor Analysis Update
Prior to this change, SPARK would only include the guarantors and applicants in the credit memo section for the Guarantor Analysis. With this change, we will now show guarantors, applicants, and owners (20% or more) in the Guarantor Analysis and the corresponding credit memo section.
Decision Requests
We originally only let the "creator" of the decision request complete their own decision request. We've now changed it so that any user who "Can Create or Complete Decision Requests" can complete any decision request.
Scorecard Updates
You can now reset scorecards when the product changes for a package. If the scorecard ID doesn't match the ID of the configured scorecard for the product, and the package is in a stage prior to approval, SPARK will prompt you to reset the scorecard.
New Permissions
We've added new permissions for managing installment types and lease types. These permissions include:
Can Edit a Deposit Installment

Can Add a Deposit Installment

Can Delete a Deposit Installment

Can Track a Deposit

Can Edit a Tracked a Deposit

Can Reject (Debit) a Tracked a Deposit

Can Delete a Tracked a Deposit

Can Refund a Tracked a Deposit
API Key Deprecated
We've deprecated our previous API key. For the latest information on API changes, check out the SPARK 7.5.1 release notes.
New SBA Form 413
The SBA recently released SBA Form 413, which is now supported in SPARK 7.6. This form collects information about the Business Applicant and its owners' financial condition. For more details, please review SBA Form 413 and reach out to your CSM with any questions.
What's Been Fixed
Here are some things we fixed that will be live in this next update.
The time zone was incorrect when 2-factor authentication was changed. We've now fixed this bug.

The total exposure page fails when the lease terms aren't defined. We addressed this in a hotfix.

We made two fixes to the Document Analysis feature:

Duplicate Periods - an issue was resolved where multiple tax returns for different entities for the same tax year was causing periodic issues when attempting to spread the financials.

Invalid Addresses - an issue was resolved when a tax return had an address that couldn't be parsed by our document analysis engine. The engine will sometimes think the city is the state so our validation wasn't picking up that the state was actually invalid. This would result in a failed conversion.

When downloading documents as a zip file, an issue was resolved where certain file names with "illegal" characters were causing our document download to fail.

For the Lease Credit Memo, an issue was resolved where a credit memo using the "Lease Summary" section would fail when a primary business was not identified.

There were mismatched placeholders when documents were sent to DocuSign that included a year. We addressed this issue in a hotfix.

Finally, we identified the bug where a PPP Forgiveness Application would revert to "Lender Approved," even after SBA submission. If a borrower was sent an electronic signature request that was never completed, DocuSign would send a void/decline response 30-60 days after the initial electronic signature request. We were using this response to move the Forgiveness Application stage back to "Lender Approved." A hotfix was released to ignore this DocuSign event if the Forgiveness Application was already sent to the SBA for review.
Find Out More
If you're interested in learning more, please check out these helpful links:
Stay tuned into the latest features and subscribe to your favorite categories. If you have any feedback or questions about this release, please reach out to your favorite CSM, or email us at support@lendwithspark.com. Your feedback will help us make SPARK the best loan origination software in the market!