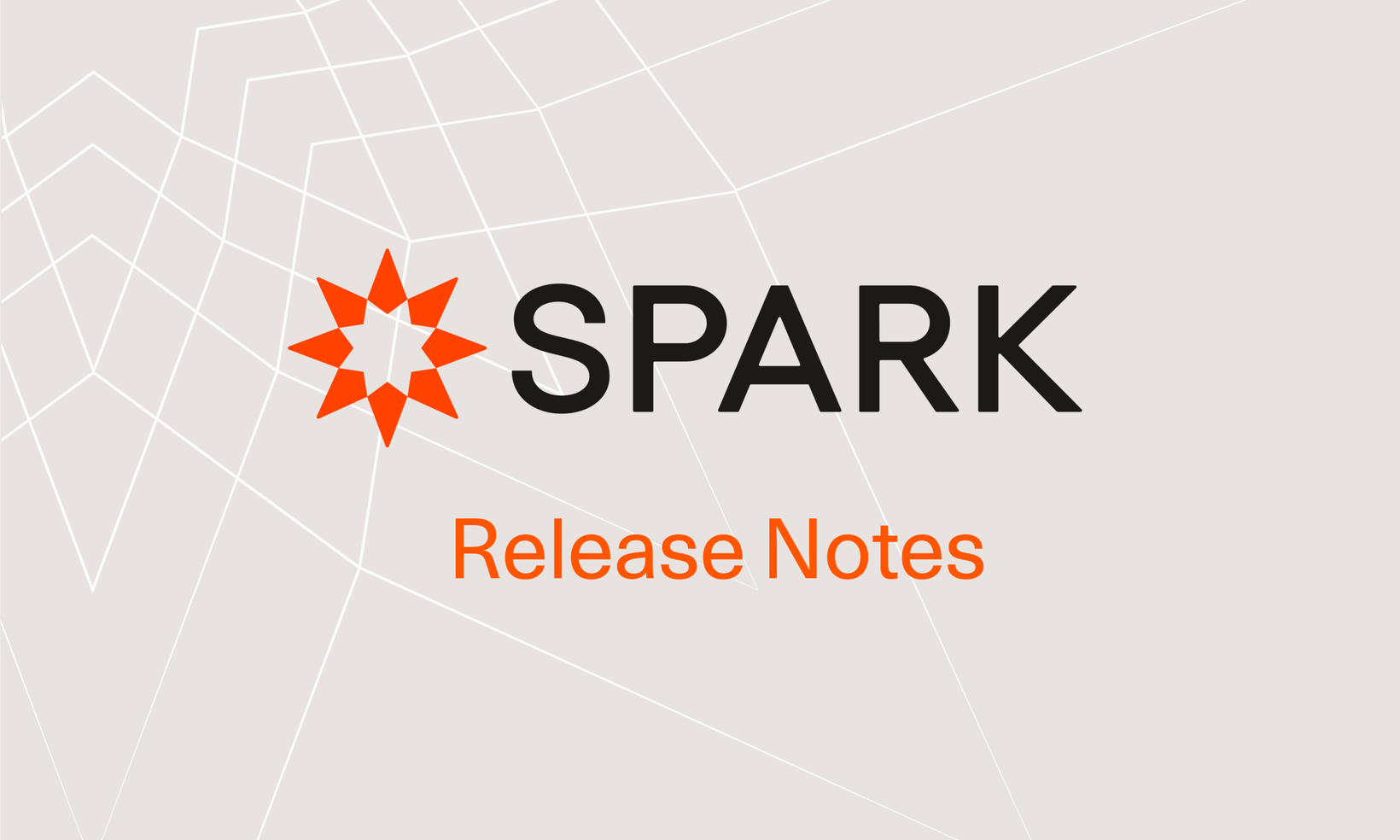 DATE:

AUTHOR:

The SPARK team
DATE:
AUTHOR: The SPARK team
What's New
Document Analysis
A new global action that provides access to SPARK's "document analysis" is available from within any package. This action provides the ability to upload new documents or select one or more existing documents for analysis so that business, personal, and financial information identified within the documents can be imported into the loan package.
SPARK currently supports PDF versions of the following tax forms:
1120

1120S

1065

1040 Schedule C

1040
Automated Packages
In this release we are introducing a streamlined approach to requesting and collecting tax documentation from applicants and referral sources such that the business, personal, and financial information can be automatically extracted through SPARK's new "Document Analysis" capability.
New "Standard" Financial Analysis Templates
We've created four new business financial analysis templates and a new personal cash flow template that can be used with SPARK's new document analysis capability. These standard templates align to the four business tax forms SPARK currently supports for document analysis:
1120S

1120

1065

1040 Schedule C

1040 (for personal cash flow)
These templates will be disabled by default and must be enabled for your users to take advantage of automated spreading. If you would like to continue to use your existing templates and take advantage of the automated spreading, your templates can be updated to map to the tax form line items SPARK has available.
Contact support @lendwithspark.com or your customer success manager if you'd like to learn more about the standard financial analysis templates or have your templates updated to support automated spreading.
Alerts Option in SPARK "Utility" Navigation
A new "alerts" navigation icon is included in this release and will be used to notify users when a document analysis has completed. We will look to add other types of alerts in future releases.
New Homepage Widgets for Accessing Automated Packages
Two new widgets are now available for homepages.
My Automated Packages – displays a list of automated packages that you own.

All Automated Packages – displays a list of all automated packages that exist.
Automated packages are only available from the "Recent Packages" widget or one of the new Automated Package widgets.
New Homepage Widgets for Displaying All Tasks (Including Funded Loans)
Two new widgets have been added for customers who wish to see tasks for loans that have fully funded.
What's Changed
We've made a few changes to the platform that will be live with this new release.
Simplified Information Request Experience for Applicants
Workflows - We've eliminated the concept of "workflows" from the applicant view of information requests so that applicants can more easily navigate their assigned tasks. Applicants are still required to submit the collection of tasks that make up a given workflow.
Updated Applicant Homepage – When an applicant is assigned to an information request, the tasks (previously known as "activities") that they are assigned are now listed directly on their homepage. Prior to this release, a list of assigned workflows was displayed, and the applicant was forced to navigate through the workflow to get to the tasks / activities.
Collateral Comments now Support Snippets
Snippets can now be created / added to the collateral comments box that is available for each piece of collateral document on a loan package.
Consolidation of Custom Financial Analysis Sub Accounts
We've updated how custom sub accounts work in financial analysis to eliminate duplicate sub accounts. Going forward, the list of available sub accounts will include all sub accounts that have been entered for the given statement type / account combination across all loan packages instead of just the custom sub accounts added for the current package. For example, if you created a sub account called "Travel and Meals" on an income statement for a loan package called Twisted Oak Wood Fired Pizza, you will now see that same sub account as an available sub account on a different loan package.
Settlement Statement Date Defaults to Closing Date and is Editable
The settlement statement date can now be changed. Going forward, the settlement statement date will default to the closing date defined for the loan package; however, it can be updated as needed.
All Borrowers Displayed on the Settlement Statement PDF
The PDF generated upon finalization of a settlement statement now displays all borrowers.
Alternate Loan Number Displays on Settlement Statement, Payment Instructions, and Accounting Statement
The PDFs generated upon finalization of a settlement statement now include the alternate loan number.
NLS Export Configuration and Support for a Custom Co-Borrower Portfolio
If your organization uses NLS for loan servicing and stores co-borrowers in a separate portfolio, your NLS export configuration can be updated to support your custom co-borrower portfolio.
LaserPro Export Configuration and Support for Disabling the SBA Module
Organizations that use LaserPro for generating closing documents but do not wish to leverage the SBA Module in LaserPro can now disable this feature in SPARK's export configuration.
Tasks Page Never Locks
The tasks page will no longer be locked on funded / completed loan packages.
Deleting Electronically Signed Documents
Documents that have an electronic signature can now be deleted.
What's Been Fixed
Here are some things we fixed that will be live in the next update.
Support for Multiple 12-month Cash Flow Statements in Credit Summaries
We fixed a bug where only the most recent 12-month cash flow would be visible in the credit summary. All 12-month cash flows can now be included in the credit summary.
PDF / Printable Lead
We introduced a formatting issue with the lead form PDF as part of our changes to support mobile browsers. We've made some corrections so that the formatting is significantly improved.
PFS Credit Summary Section missing A/R Line Item
The "accounts receivable" line item is now included in the personal financial statement credit summary section.
Balloon Payment Calculation and Interest-only Periods
The balloon payment calculation has been updated to take into consideration interest-only periods.
Unable to Delete Disbursement Supporting Documentation
Disbursement supporting documents can now be deleted without issues.
Missing Phone Number when Updating Two-factor Authentication
An error would occur when setting up two-factor authentication without a phone number. The phone number is now validated and required.
Maximum Length of Repayment Sources
We have increased the number of characters allowed when documenting a repayment source. Prior to this update an error would occur if more than 300 characters were entered.
"View" Action for Credit Summary when Locked
The "view" action is now available when the credit summary is locked.
View Credit Report Modal Width
The width of the credit report summary dialog has been increased to improve readability.
Action Menus Cut-off on Various Screens due to Mobile Device Changes
We've fixed several display issues related to the "Actions…" menu getting cut off. Specific widgets / pages include:
Submitted leads widget

In progress leads widget

User management page

All checklist pages

Task pag
Find Out More
If you're interested in learning more, please check out these helpful links:
Stay ahead in SPARK and subscribe to your favorite categories.