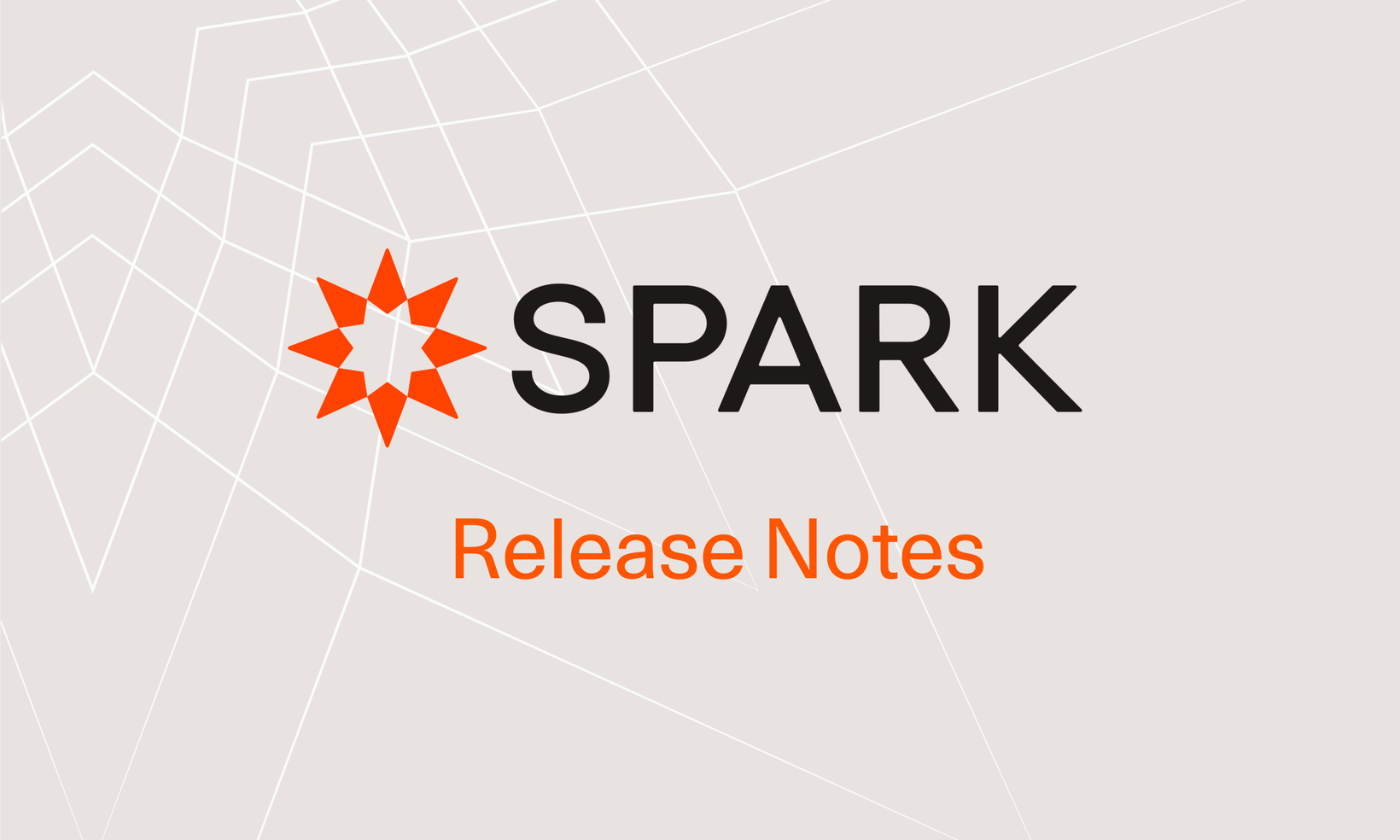 DATE:

AUTHOR:

The SPARK team
SPARK 7.1.2 Release Notes
DATE:
AUTHOR: The SPARK team
What's New
Additional Industry Standard Collateral Calculations Available
We've added additional collateral calculations that can be enabled on your collateral analysis section and credit memo template.
Discounted Collateral Exposure: Loan Amount – Available Amount

Loan-to-Value: (Loan Amount + Prior Liens) / Gross Amount

Loan-to-Value CRE: (Loan Amount + Prior CRE Liens) / Gross Amount of CRE

Loan-to-Liquidation Value: (Loan Amount + Prior Liens) / Eligible Amount

Collateral Advance Rate: Loan Amount / Available Amount

Discounted Collateralization: Available Amount / Loan Amount
Hidden Columns in Financial Analysis
We've finally added the ability to hide periods from specific financial statements. Historically, analysts could only remove columns which would also remove all information previously entered for the period.
Support for KBA (Knowledge-based Authentication) in DocuSign
Customers who use SPARK's integration with DocuSign can now configure the connection to DocuSign to setup an envelope that requires KBA to identify the signer. Prior to this change, customers using KBA were required to update the envelope's settings directly in DocuSign.
Stage Change Text Boxes and Snippets
The text boxes that support notes and commentary for stage changes now support snippets. Since this text box is used on all stage changes, the list of available snippets is always the same regardless of the stage of the loan package.
Visibility of All Pending and Completed Document Analysis Requests
SPARK administrators can now see all document analysis requests. To access a listing of all document analysis requests, open SPARK configuration and navigate to Documents à Document Analysis Results.
What's Changed
Tax Form Identification Improvements
We've made improvements to the logic SPARK uses to identify tax form within a document that was uploaded for analysis.
Identification / Calculation of Depreciation on Tax Form 1065
Since SPARK has difficulty identifying the Line 16c - Depreciation on Tax Form 1065, we've updated our logic to calculate the depreciation by using 16a and 16b if 16c is not available.
Validation of Collateral Conditions for non-Delegated Processing Methods (SBA Products)
SPARK will now validate that non-delegated lenders have completed all the required collateral condition fields prior to the submission to E-Tran. These fields are not required for E-Tran submission if the loan is using a delegated processing method.
Clear / Remove Team Role Assignment
We've added the ability to remove / clear a role assignment on a loan package.
Expand / Collapse Sources and Uses Page
The sources and uses allocation page can now be expanded so that loan packages with multiple sources of funds can be allocated more easily.
SBA Eligibility Certification Question Formatting
The certification yes / no buttons are now aligned to the left of the question like the other eligibility sections.
What's Fixed
Duplicate Document Analysis Requests and Failures
There was an issue that would occur when a user submitted two document analysis requests for the same underlying document.
Deleted Package and Pending Document Analysis Request
The document analysis process would stop processing documents if the loan package associated to an in-progress request was deleted.
1065 K-1 Ownership %
We fixed an issue with the ownership % of an owner of a partnership not pulling through to the "review" screen in SPARK's document analysis.
External Users and Deleted Information Request Activities
We fixed an issue where an authorized user would use a bookmark to access an activity that was previously deleted.
Restoring a Loan Package and Resetting Days in Stage
There was an issue with our logic for resetting the number of days a loan package was in a stage when a loan package was restored.
Reclassifying a Document with One or More Versions
We fixed a bug that would impact reclassifying documents with one or more versions.
E-Tran Submission and Empty SSN
An error would occur when an individual without an SSN was submitted to E-Tran.
Find Out More
For more information, download the full SPARK 7.1.2 release notes. Stay ahead in SPARK and subscribe to your favorite categories.