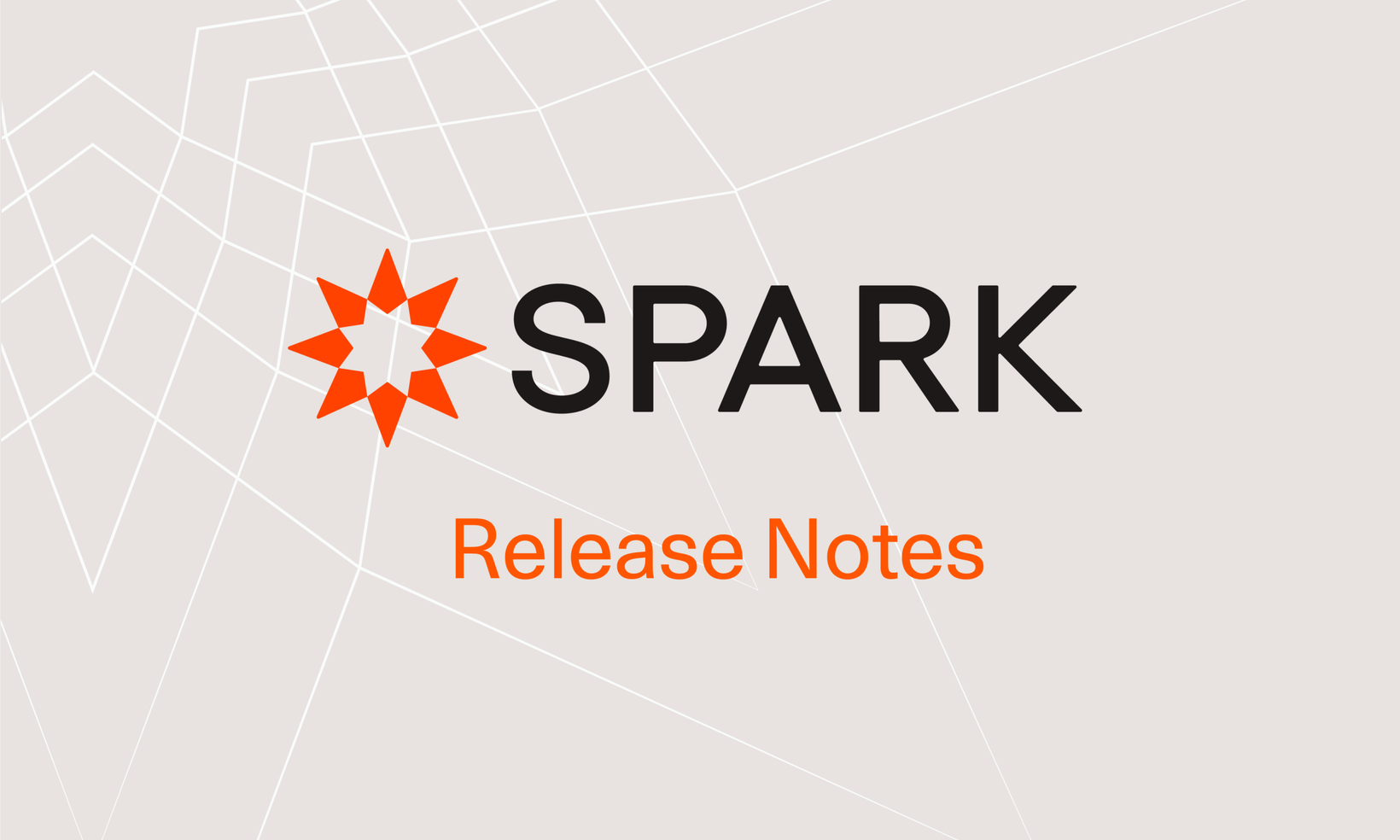 DATE:

AUTHOR:

The SPARK team
DATE:
AUTHOR: The SPARK team
What's New
These features were released February 7, 2021. Here are some new features we included in this release.
Lender Contact (Partners) Access to SPARK
SPARK customers who manage the origination process for multiple lenders can now invite lender contacts into SPARK as "internal" users. Prior to this change, external lender contacts could only access SPARK in the same way an applicant would access SPARK.
SPARK administrators can now define roles for partner users that include a subset of the standard internal permissions.

Partner users that have been given access to SPARK will have access to all packages within the location (or locations) they have been assigned.

Once logged in, partner users see a list of active packages for their location(s) and can change the view to see inactive or completed packages.

Partner users can open a package and navigate the package based on the permissions they have been granted.
Support for 2020 Tax Forms in Document Analysis
Minor updates have been made to SPARK's document analysis feature to support the following 2020 tax forms:
1040

1040 Schedule C

1065

1065 K-1

1120S

1120S K-1

1120
IRS Form 4506-C
SPARK now supports the new 4506-C form for requesting tax return transcripts. If your organization plans to use the new form, your document configuration should be updated to include the new 4506-C placeholder.
What's Changed
We've made a few changes to the platform that will be live with this release.
PPP Forgiveness Changes
SPARK now supports the new SBA Form 3508 and 3508EZ forms that were released in January. The new forms cannot be submitted to the SBA until the forgiveness portal is updated on March 5th.
User and Role Management Changes
The user and role administration section has been split out into 3 separate sections:
Internal Users and Roles

Partner Users and Roles

External Users and Roles
We've also made user management permissions more granular so that SPARK administrators can control who can manage internal, partner, and external users.
Default Location
Prior to this release, you could choose which location was the 'Default Location' in the Configuration. We will no longer support changing the default location. This change will not apply to those SPARK clients who only have one location associated with their SPARK instance.
Project Accounting Permission Changes
A new "can manage invoices" permission has been added to support more granular control over what users can access in the project accounting feature. Existing users who had access to manage invoices will retain the permission.
Edit Package / Edit Terms Permission Changes
The "edit package details and terms" permission has been split into two separate permissions – edit package details and edit package terms. Those with permission to manage details will be able to make updates to the "Edit" page in the SPARK navigation. Those who can manage Terms will be able to update the Terms page in SPARK.
What's Been Fixed
Affiliates Attachment for SBA Form 1920
We fixed a bug in the new 1920 where the affiliates documented in the size standard section weren't included as an attachment.
SBA Form 1920 and Affiliate Size Standards
We updated the way size standards are mapped to the new 1920 to exclude the value for average annual receipts entered for affiliates.
Form Identifier in Lead API
The lead API now includes the form identifier.
Disabled Notifications
We resolved an issue that would occur when a user would update their profile and disabled notifications would become enabled. This bug only impacted users who did not have the ability to manage their notification subscriptions.
Guarantor Analysis Installment Total
We fixed an issue in the guarantor analysis section of the credit memo where the total of installment loans was not properly calculated.
Homepage Widget Selection Performance
We fixed a performance issue that would occur when a user would attempt to add or remove widgets from their personal homepage.
Find Out More
If you're interested in learning more, please check out these helpful links:
Stay ahead in SPARK and subscribe to your favorite categories for the latest feature updates.