DATE:

AUTHOR:

The SPARK team
SBA and SPARK Update - 2022 NAICS Codes
DATE:
AUTHOR: The SPARK team
The list of NAICS codes has been updated for 2022. SBA has updated E-Tran to require the newly updated 2022 NAICS Codes on all submissions moving forward. There are select industries that have new NAICS Codes with this update, which could affect submission to E-Tran on loans that you are in the process of originating. For example, 'Beer, Wine and Liquor Retailers' has been updated from 445310 to 445320.
If you attempt to submit a loan to E-Tran, with one of the NAICS codes that has been changed, you will see an error that looks like this: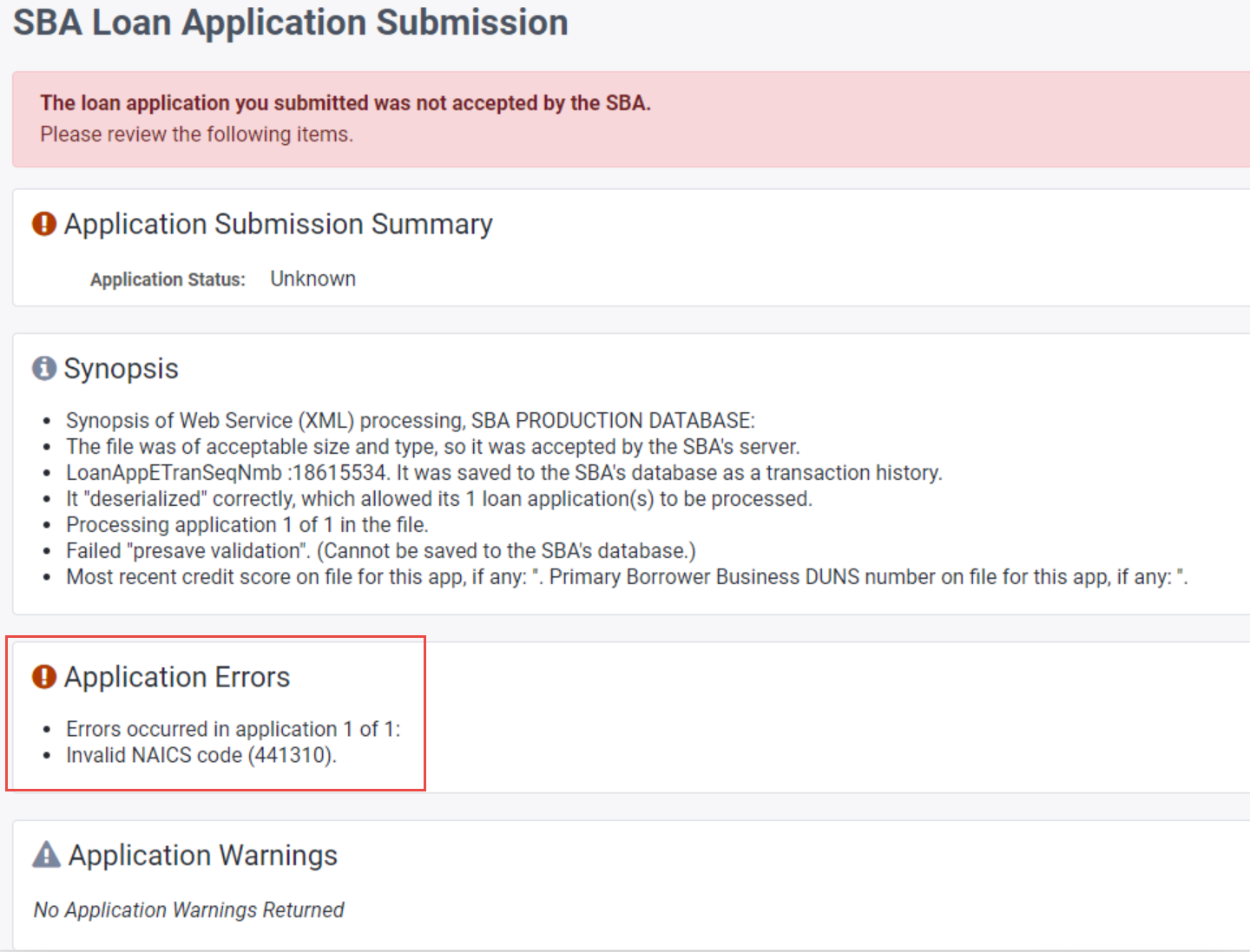 To resolve this issue, you will need to take two steps. First, navigate to the business in question and edit the NAICS Code. The NAICS 'Search as you type' field will be composed ONLY of the new 2022 NAICS Codes. Search the industry in question and select the new 2022 NAICS Code.
The second step involves the Size Standard. SBA has updated E-Tran to require 2022 NAICS codes, but Size Standards for those NAICS Codes have not been provided. SBA has advised that the Size Standards for the 2017 NAICS Codes be used until new Size Standards are provided. SPARK will update the Size Standards for the 2022 NAICS Codes when they are provided. Until that time, SPARK's Size Standards will look to the figures for the 2017 NAICS Codes. Navigating to SBA Eligibility will show Size Standards to be a Fail for loans with NAICS Codes that have been updated.
Upon editing the Size Standards, SPARK will indicate that there is no Size Standard associated with the new 2022 Code, and that the 2017 Size Standard will need to be used.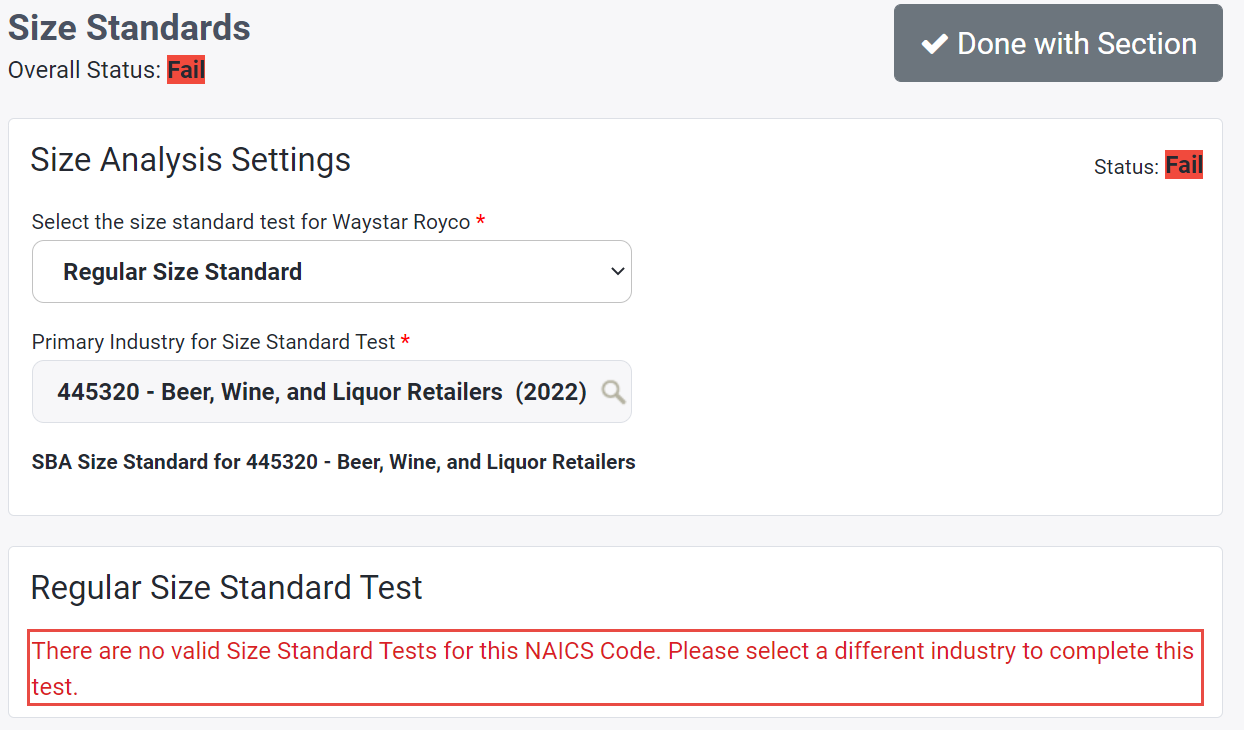 We can then search for the 2017 Code, apply it, and receive a status of Pass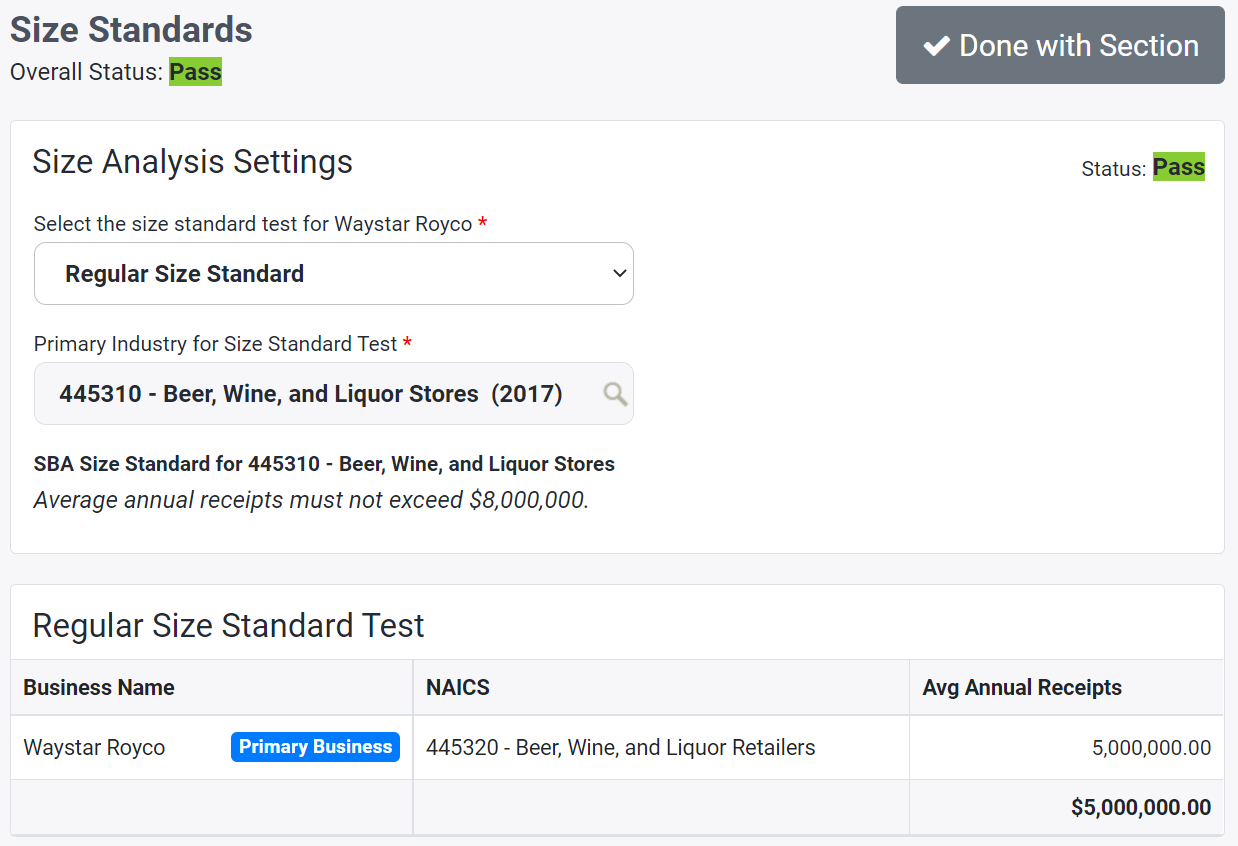 One final thing to note, is that this will result in two NAICS Codes listed on the resulting SBA Form 1920. The 2022 NAICS Code will be listed in Section C. Part Two:

The 2017 NAICS Code will be listed in Section M. Size Analysis