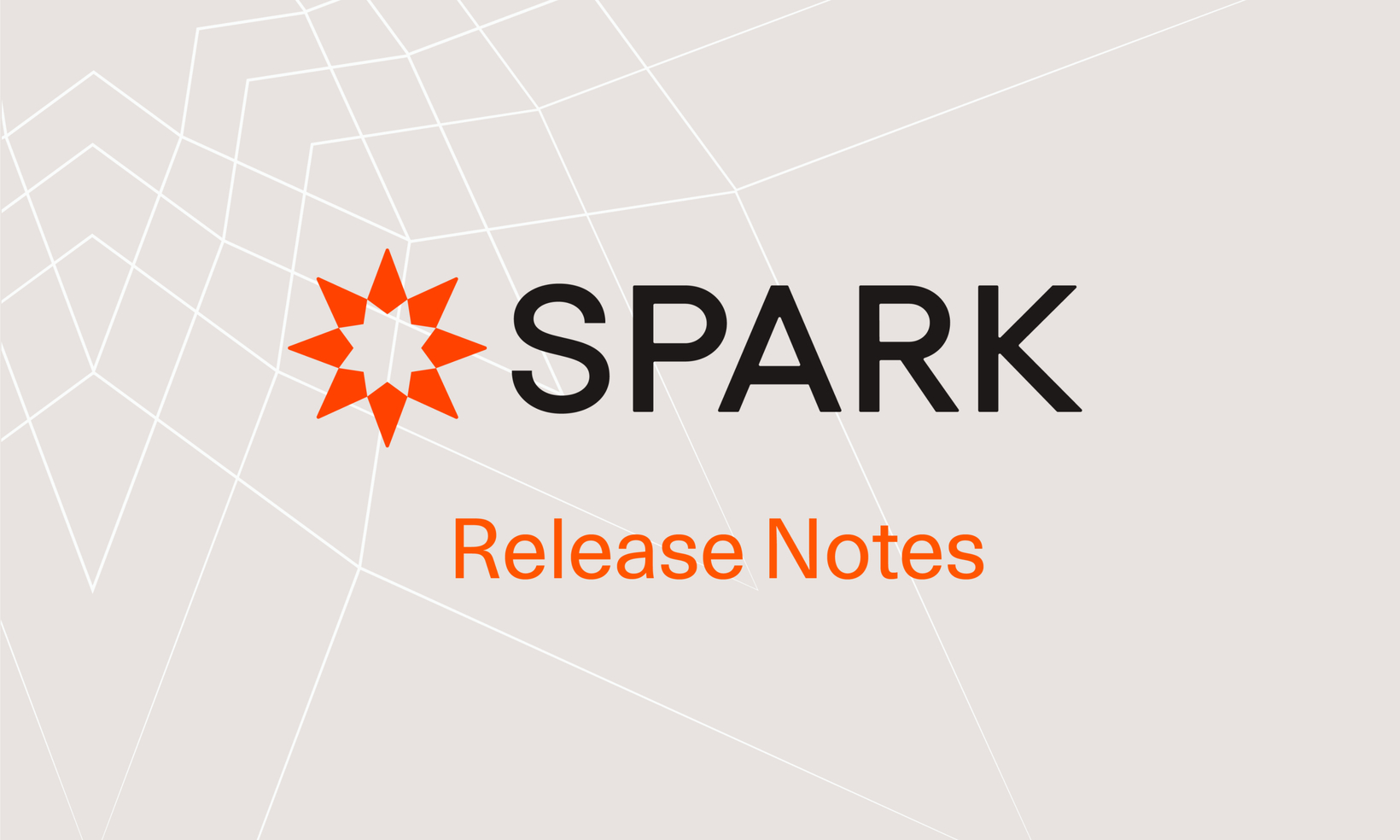 DATE:

AUTHOR:

The SPARK team
SPARK 7.7.2 Release Notes
DATE:
AUTHOR: The SPARK team
On November 13, 2021, we'll be releasing SPARK 7.7.2. This update will feature quite a few improvements for all SPARK users. Please read on to find out more about the changes we've made in this release.
What's New
Login Screen and Password Improvements
When you log into SPARK, you can now show and hide your password so you can see what you're typing. We will also prompt you with a CAPS lock warning whenever it's turned on, just in case you hit it by accident. These changes are small "quality-of-life" improvements that will hopefully prevent you from accidently locking yourself out of SPARK.
In addition to the login screen changes, we've also updated our password requirements and have made them visible when you're changing your password. This change will help you make a more secure password and will clearly identify what you need in order to do so.
Automated Packages without Contacts
When creating automated packages, you no longer need a contact to associate to the package. This means you can bypass the email process and quickly create an automated package so you can more easily upload and analyze tax documents.
Quick Notes Improvements
We continue to make some additional improvements to notes where you can now add and remove attachments when you edit a note. Additionally, you can now mention yourself in a note. When you mention yourself in a note, you will be notified on your To Do list but not via email (we thought it would be slightly redundant to do that). Mentioning yourself is helpful in case you need to remind yourself of a package-related activity.
API Improvements
We've made some changes to our API:
Note Topic now available in the Note API

Reporting API and corresponding schema is now documented

New Invoices API

New Fees API

New Deposits API
New Project Accounting Fees Credit Memo Section
A new section can be added to your credit memos if you're interested in documenting the fees found in project accounting. Reach out to your CSM if you need assistance adding this new section to your credit memo template(s).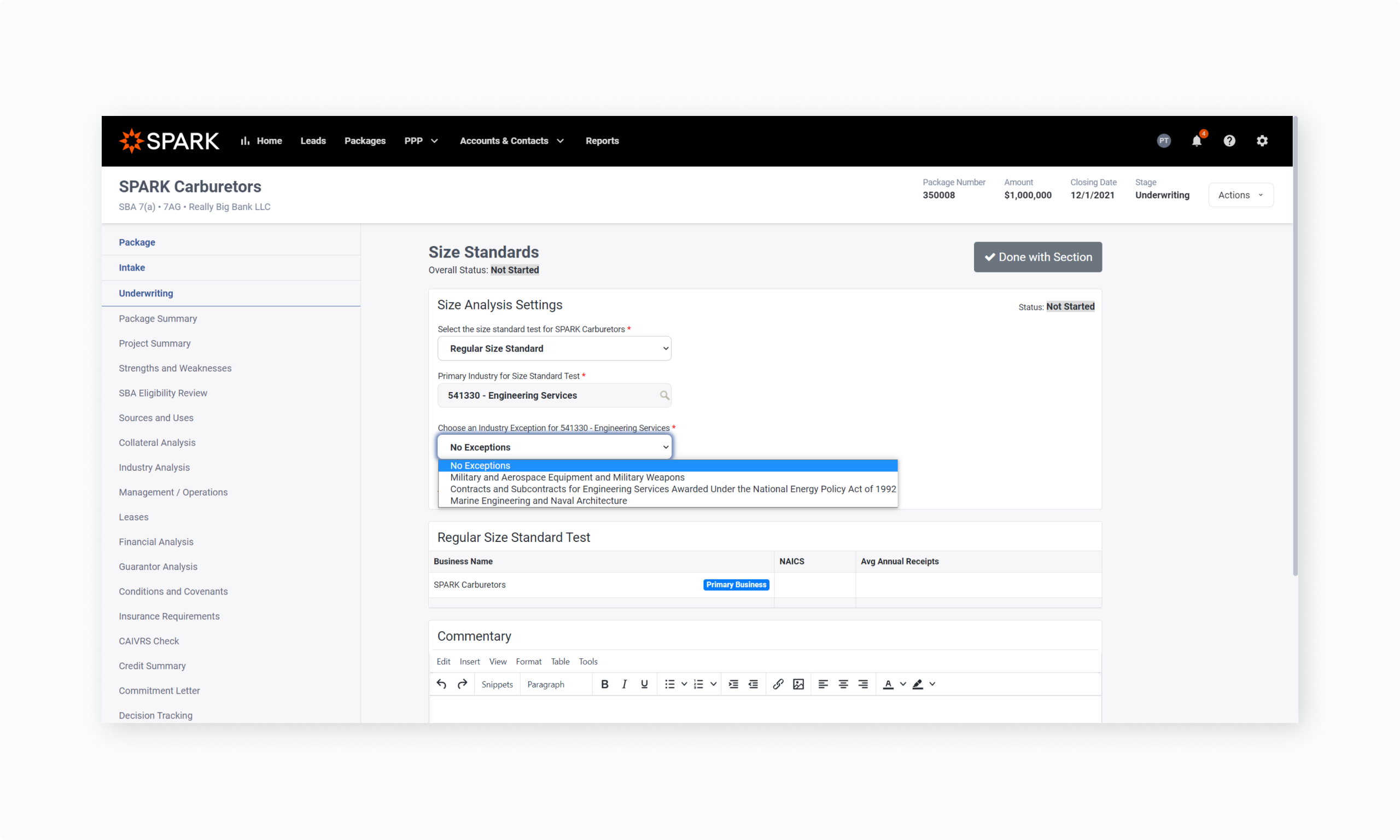 NAICS Exceptions for SBA Size Standards
The SBA has several exceptions when it comes to their size standards and what would qualify as a small business. When you run a size standard test, you will now be able to choose these exceptions when you select the following NAICS codes:
115310 - Support Activities for Forestry

Forest Fire Suppression (20.5M Receipts)

Fuels Management Services (20.5M Receipts)

237990 - Other Heavy and Civil Engineering Construction

Dredging and Surface Cleanup Activities (30.0M Receipts)

238990 - All Other Specialty Trade Contractors

Building and Property Specialty Trade Services (16.5M Receipts)

488510 - Freight Transportation Arrangement

Non-Vessel Owning Common Carriers and Household Goods Forwarders (30.0M Receipts)

541330 - Engineering Services

Military and Aerospace Equipment and Military Weapons (41.5M in receipts)

Contracts and Subcontracts for Engineering Services Awarded Under the National Energy Policy Act of 1992 (41.5M in receipt)

Marine Engineering and Naval Architecture (41.5M in receipts)

541519 - Other Computer Related Services

Information Technology Value Added Resellers (150 for number of employees)

541715 - Research and Development in the Physical, Engineering, and Life Sciences (except Nanotechnology and Biotechnology)

Aircraft, Aircraft Engine and Engine Parts (1,500 for number of employees)

Other Aircraft Parts and Auxiliary Equipment (1,250 for number of employees)

Guided Missiles and Space Vehicles, Their Propulsion Units and Propulsion Parts (1,250 for number of employees)

562910 - Remediation Services

Environmental Remediation Services (750 for number of employees)

611519 - Other Technical and Trade Schools

Job Corps Centers (41.5M in receipts)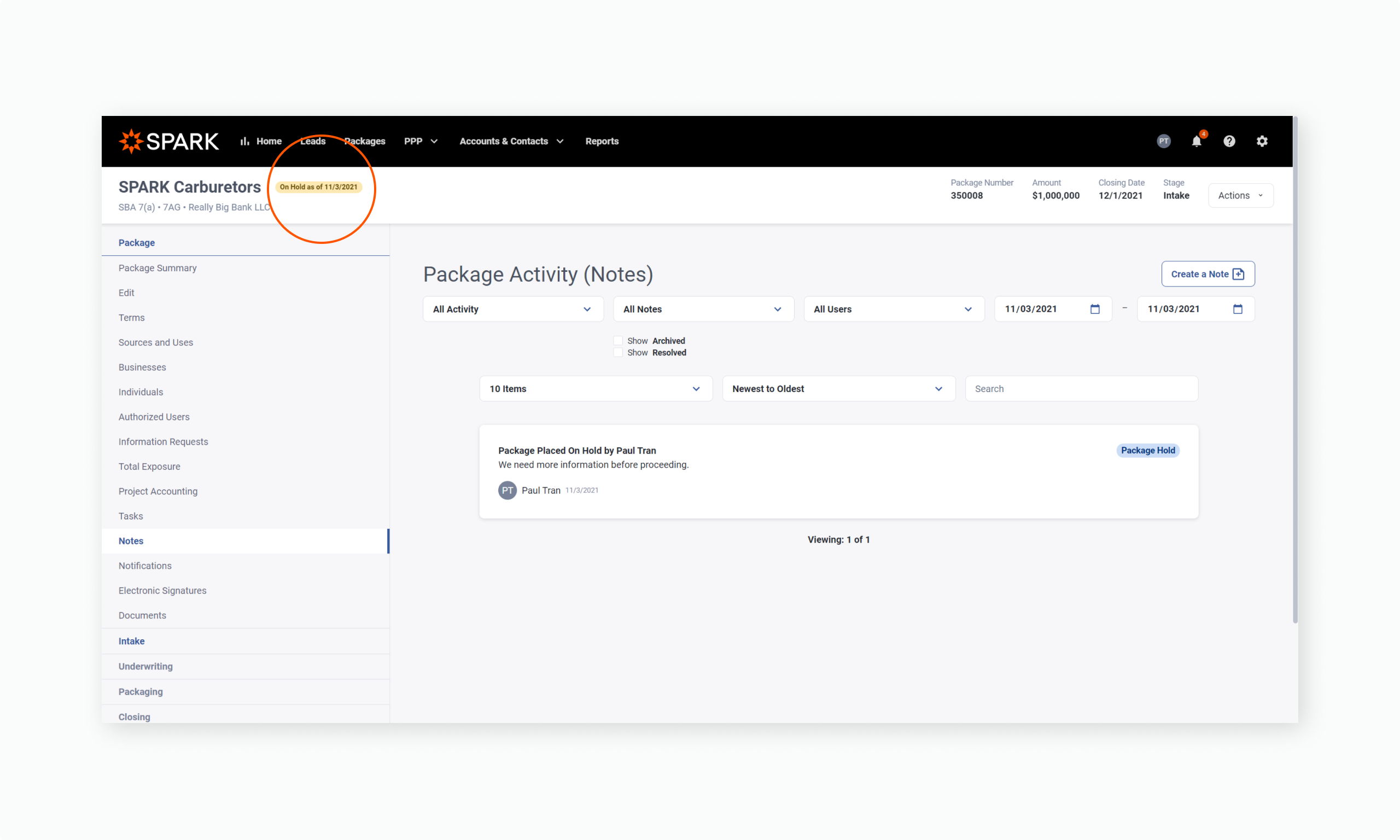 Package Holds
For a Package on Hold, the Date that it was put on Hold will now be visible in the package header. A note will also be created when package is placed on hold and when a package is taken off a hold.
Electronic Signature Updates
Documents associated to an in progress Electronic Signature request from DocuSign will now show a "Pending Signature" status in the document listing.
What's Changed
Changes to Quick Notes Button
We've simplified the Create a Note button down to an icon. It's still in the same spot, so you'll still be able to easily find it.
Sources and Uses
The total allocation in Sources and Uses is now rounded to two decimal points to match the credit memo format.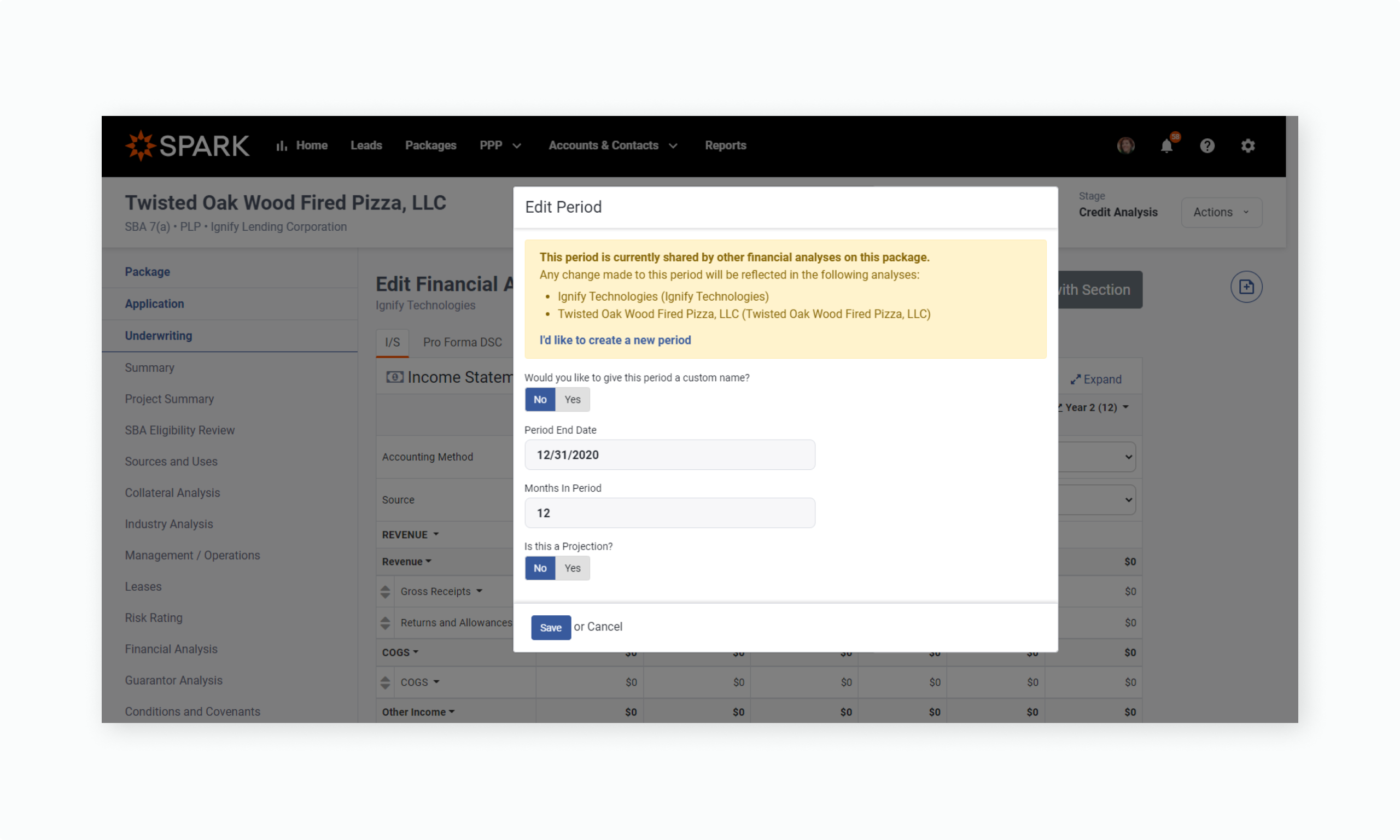 Financial Analysis and Shared Periods
If you have multiple financial analyses that share the same period, you will be asked to either update the shared period or create a new period on the fly so the other financial analysis is not impacted by the change. This is helpful for businesses that are on a different fiscal calendar. When creating a new period, all existing statements for this specific financial analysis will be updated to use the new period.
Other Changes
Here are a few other changes worth noting:
SBA Agreements will now be available as a stand-alone page in location settings.

A lender token is now available for external information request emails.

We introduced a new "Can Manage Lender Policy" permission, which does exactly what the title of the permission implies.
What's Been Fixed
Deleting Accounts associated to Deleted Packages: An error would occur if you tried to delete an account that was associated to a package that was previously deleted. We will now properly clean up the account-related information on the deleted package. If you restore the package, the account / business information will no longer be available.

Decision Requests with Reviewers that are no longer lender contacts: A bug was fixed related to decision requests created with reviewers that no longer have the correct permissions to review and approve decision requests.

4506-C missing business primary contact name in signature line: The name of the primary contact for a business was not getting mapped to the 4506-C signature section.

Deleting a team role associated to deleted packages: It is now possible to delete a team role even if the team role is associated to packages that were previously deleted.
Find Out More
Stay tuned for the latest features and subscribe to your favorite categories. If you have any feedback or questions about this release, please reach out to your favorite CSM, or email us at support@lendwithspark.com. Your feedback will help us make SPARK the best loan origination software in the market!