DATE:

AUTHOR:

The SPARK team
Release Notes
Application/Intake
General Updates
SPARK 7.8.2 Release Notes and Webinar
DATE:
AUTHOR: The SPARK team
On Saturday, April 23rd, we will release SPARK 7.8.2. This update includes changes to the Scoring Dashboard and importing of Financial Statements during package creation.
Please join us for the SPARK 7.8.2 release webinar on Thursday, April 14th at 11:00 AM CST, where you can see a demonstration and ask questions about the content of this release. After the webinar, you can see a recording using this link.
What's New
Apply Historical Personal Credit Scores for Repeat Individuals
You can now view and import historical personal credit scores for individuals who have previously been scored in SPARK.
From the Scoring Dashboard, you can preview any available historical scores for an individual and view the details of each report before choosing whether to add a score to the package.
We've also improved the visibility of business ownership information on the Scoring Dashboard, which is particularly beneficial for individuals who have ownership in multiple businesses.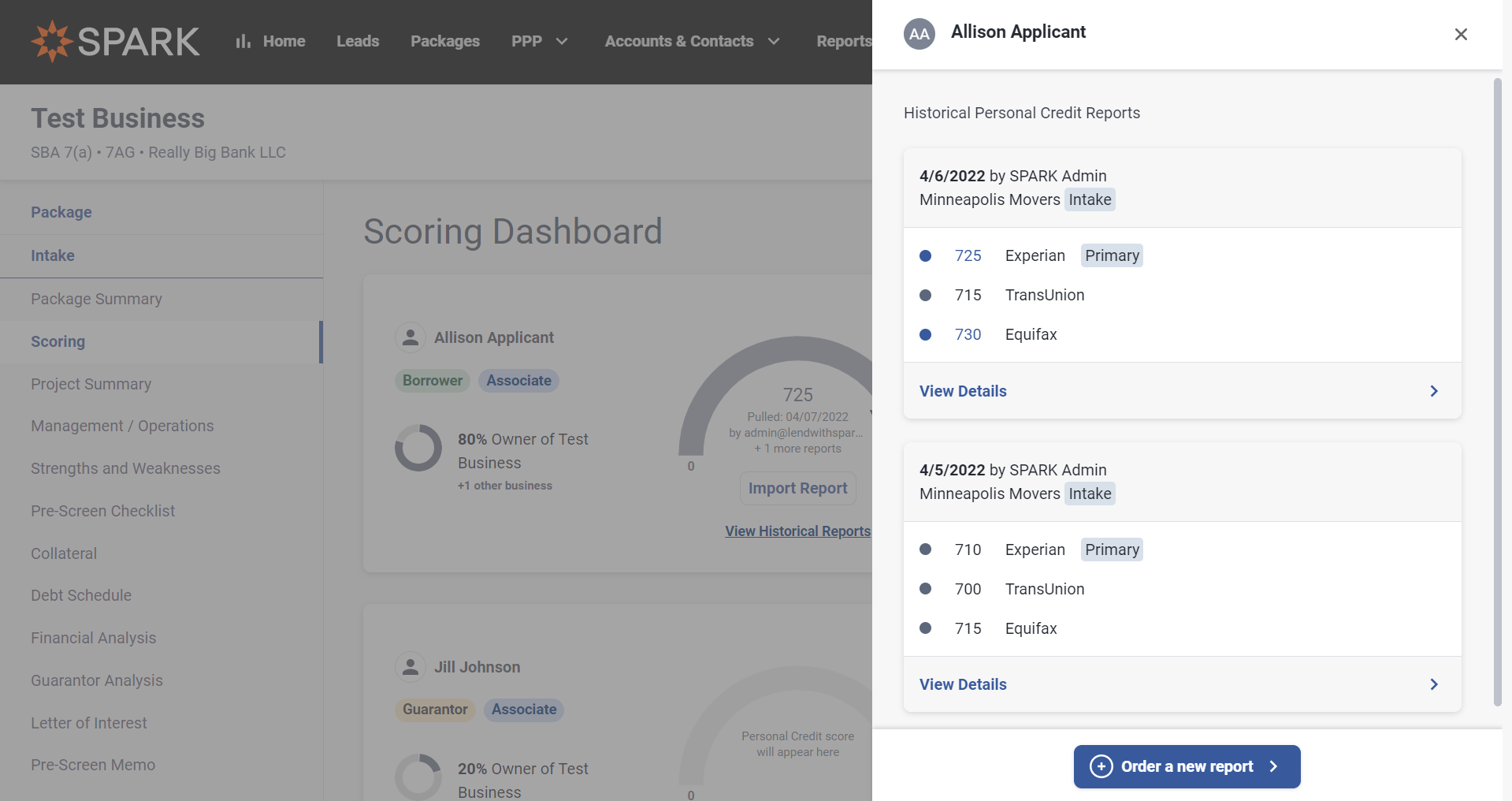 Manually Add Personal Credit Reports From the Scoring Dashboard
If your organization uses automated scoring, you now have the option to add personal credit scores manually as well.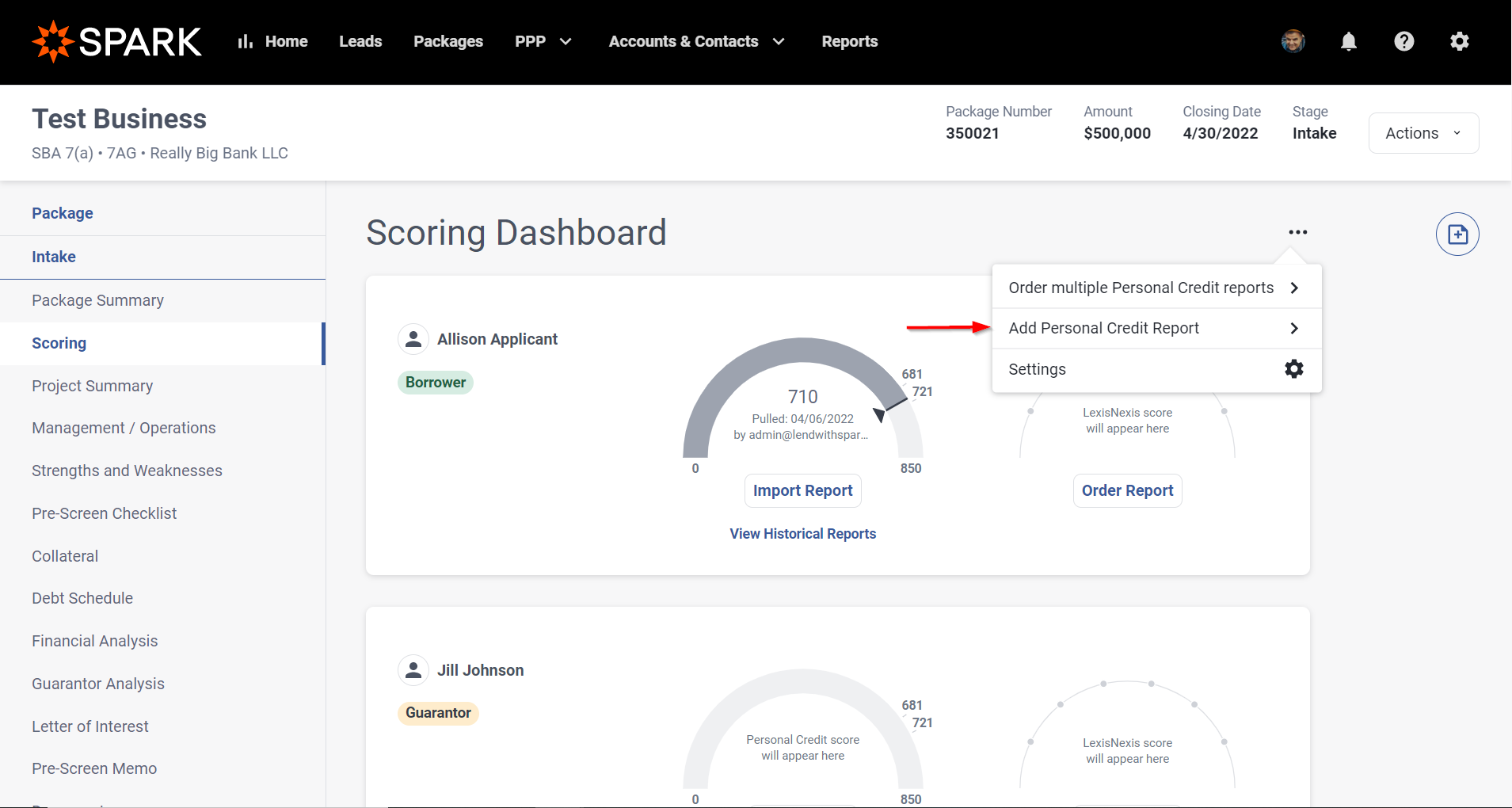 Copy Historical Financial Statements to a New Package
When creating a new package for a repeat applicant, you now have the ability to import any income statements and balance sheets that have previously been documented in SPARK.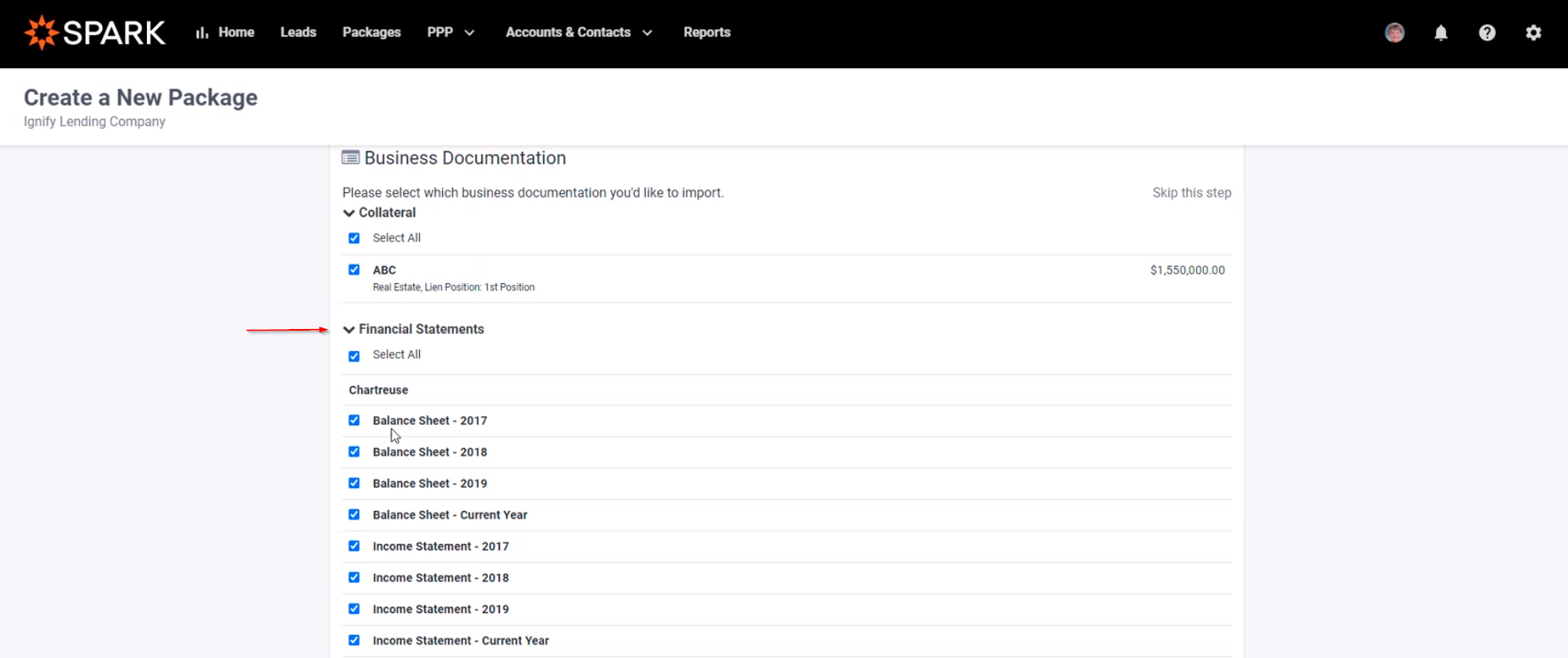 Add Stage Date Columns to Package Listings on Personal Dashboards
You can now add the following columns, which provide at-a-glance information about package stage change dates, to your personal dashboards:
Submitted to Underwriting

Submitted to Packaging

Submitted to Closing

Submitted to Funding

Date Completed
What's Been Fixed
Community Impact information - All demographic information now appears as expected in the Community Impact Analysis section of SPARK and the corresponding section of credit summaries. Prior to this fix, owners with a documented race of "white" were showing as "unknown" in these places. This was updated in a hotfix.

Expand/Collapse button - The Expand/Collapse button available in the Financial Analysis section and other screens now behaves as expected.

Stage acceptance - When SPARK has been configured to require users to accept a package stage change, but no specific user roles have been designated to perform that action, packages will be accepted automatically.
Find Out More
Stay tuned for the latest features and subscribe to your favorite categories. If you have any feedback or questions about this release, please reach out to your favorite CSM, or email us at support@lendwithspark.com. Your feedback will help us make SPARK the best loan origination software in the market!