DATE:

AUTHOR:

Alia Abboud, Product Manager
Release Notes
Administration
API
Application/Intake
Closing/Funding
SPARK 7.9.1 Release Notes and Webinar
DATE:
AUTHOR: Alia Abboud, Product Manager
SPARK version 7.9.1 will be released on Saturday, January 28th. This update includes new automation workflows for lead forms and adds Single Sign-On (SSO) capabilities.
Please join us for a release webinar on Thursday, January 26th at 11:00 AM CST, where you can see a demonstration and ask questions about the content of this release. You can view a recording of the webinar at this link.
What's New
Single Sign-On
We're excited to release Single Sign-On (SSO) support for internal users in SPARK! SSO allows users to securely authenticate with multiple applications and websites by using just one set of credentials. Our single sign-on feature is compatible with all identity providers. Reach out to your CSM to configure SSO for your SPARK instance.
Intake Automation Workflows
As part of SPARK's ongoing efforts to automate the intake process, SPARK users can now automatically define package owners and assign information requests based on various lead characteristics, such as:
Primary Business

Project Address

Amount

Primary Use of Funds

Product Type

Businesses & Individuals
For just one example, this new automation capability allows your organization to assign every lead in a certain county to a specific BDO for follow-up. Or, you could choose to automatically send a specific Information Request when the loan amount is above a certain threshold. Intake automation workflows can be extensively customized for your organization; contact your Customer Success Manager to explore the best ways to employ these workflows for your organization.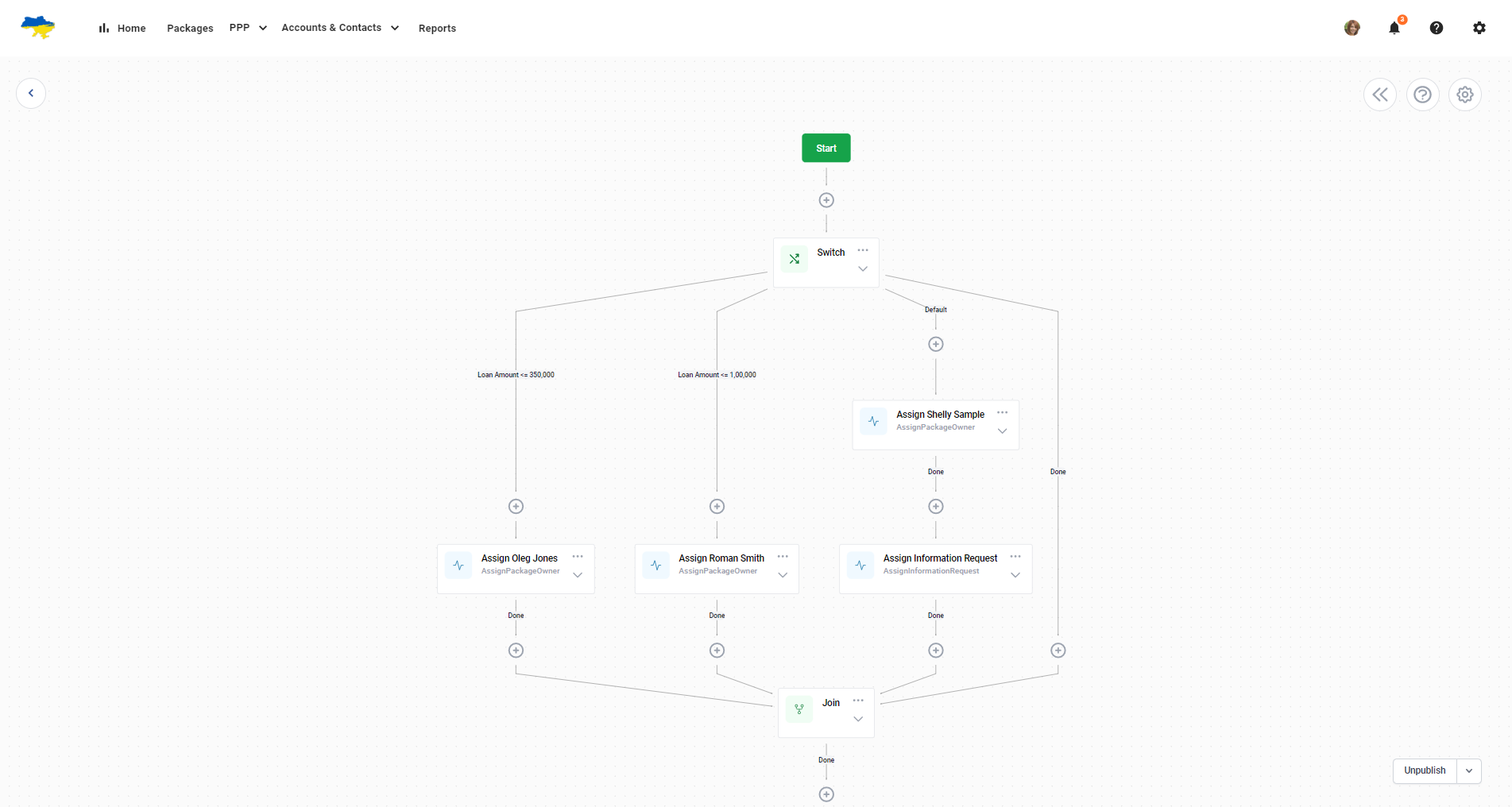 Automatic Personal Debt Schedule Creation from a Credit Report
As a result of SPARK user feedback, credit reports ordered in SPARK via Meridian Link will now automatically populate a personal debt schedule.
Debt schedule line items populated from a credit report cannot be modified by the applicant. Line items can be modified by the lender, in which case any edited line items will appear in blue font.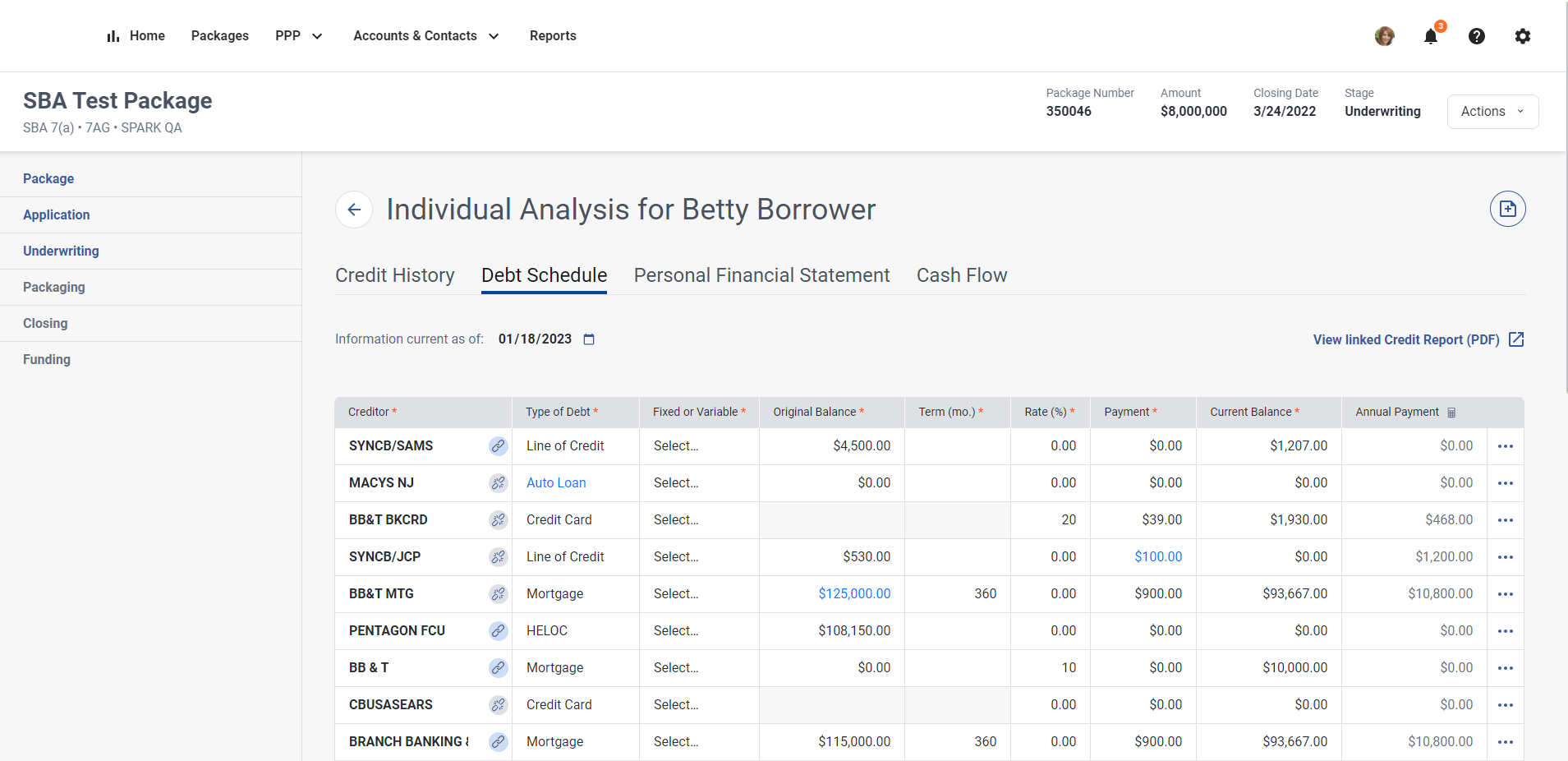 Operating Company Guarantors for EPC/OC Transactions
We have introduced a new strategy that allows for specific information and documentation to be collected for an Operating Company that is a guarantor for an EPC/OC transaction. When this strategy is in use, OC guarantors can complete the business history that will be included in Section I of SBA Form 1919.
Credit Authorization in New Lead Form Experience
When an applicant completes an attestation in the new lead form experience, a Lead Form Submission document is now saved to the package for credit authorization.
Primary Contact SSN Question in New Lead Form Experience
Lenders can now choose to request the primary contact's SSN in the new lead form experience in order to pull credit or run identity checks.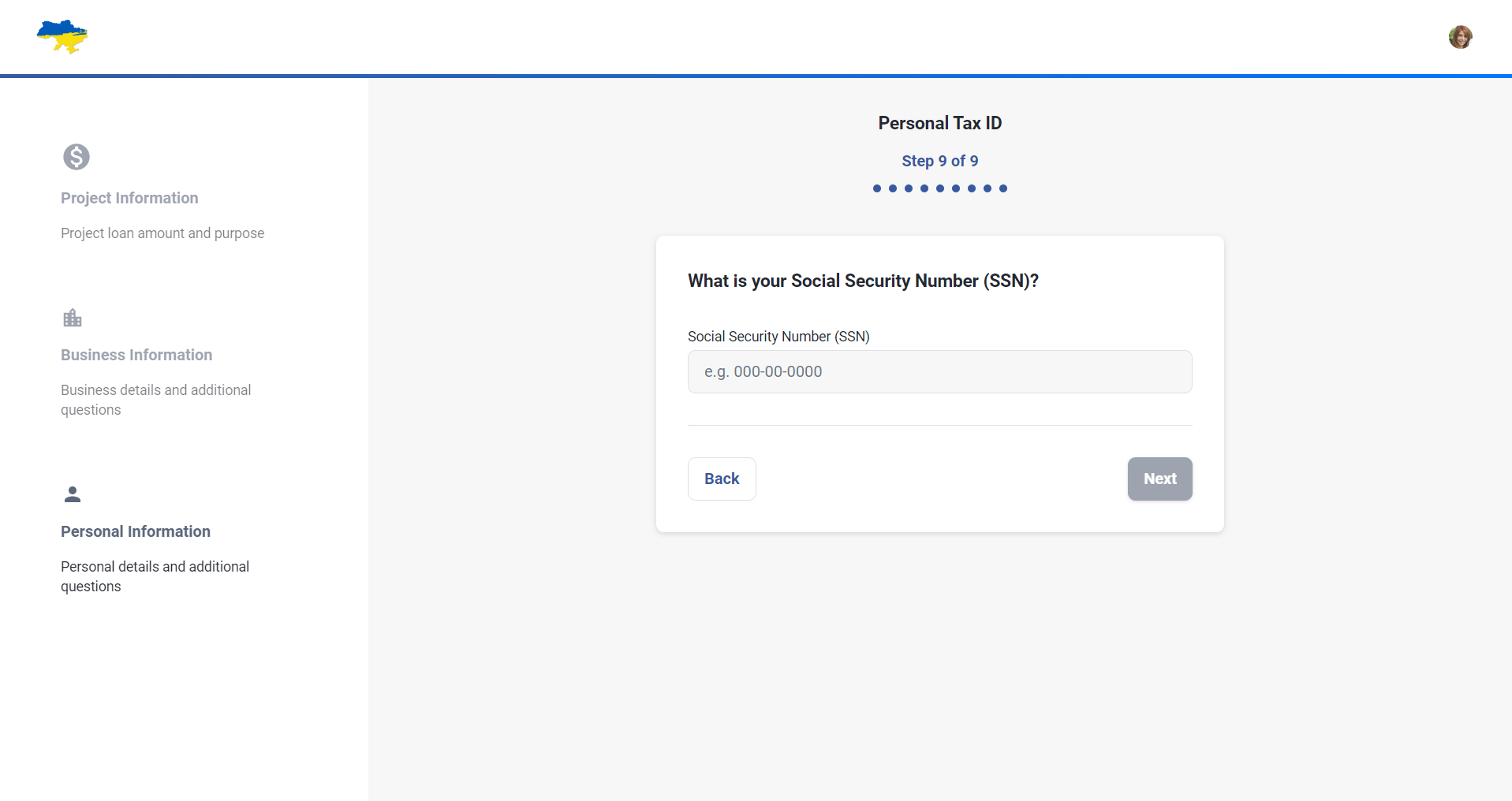 What's Changed
New Form 4506-C
SPARK now supports the latest version of IRS Form 4506-C. Due to significant changes, Vendor Name, Address, City, State, and Zip Code have been split for all tax transcript form defaults. IVES Participant Number and SOR Mailbox ID have also been added as Tax Transcript Default fields.
Action is required to successfully populate the new form 4506-C. Please contact your CSM for any assistance to make these updates.
Debt Schedule Visual Updates
In July, we updated the user experience in the Guarantor Analysis feature, including the Debt Schedule. In SPARK version 7.9.1, the user experience in the stand-alone Debt Schedule and Debt Schedule within an Internal Information Request are updated to be consistent with those previous updates.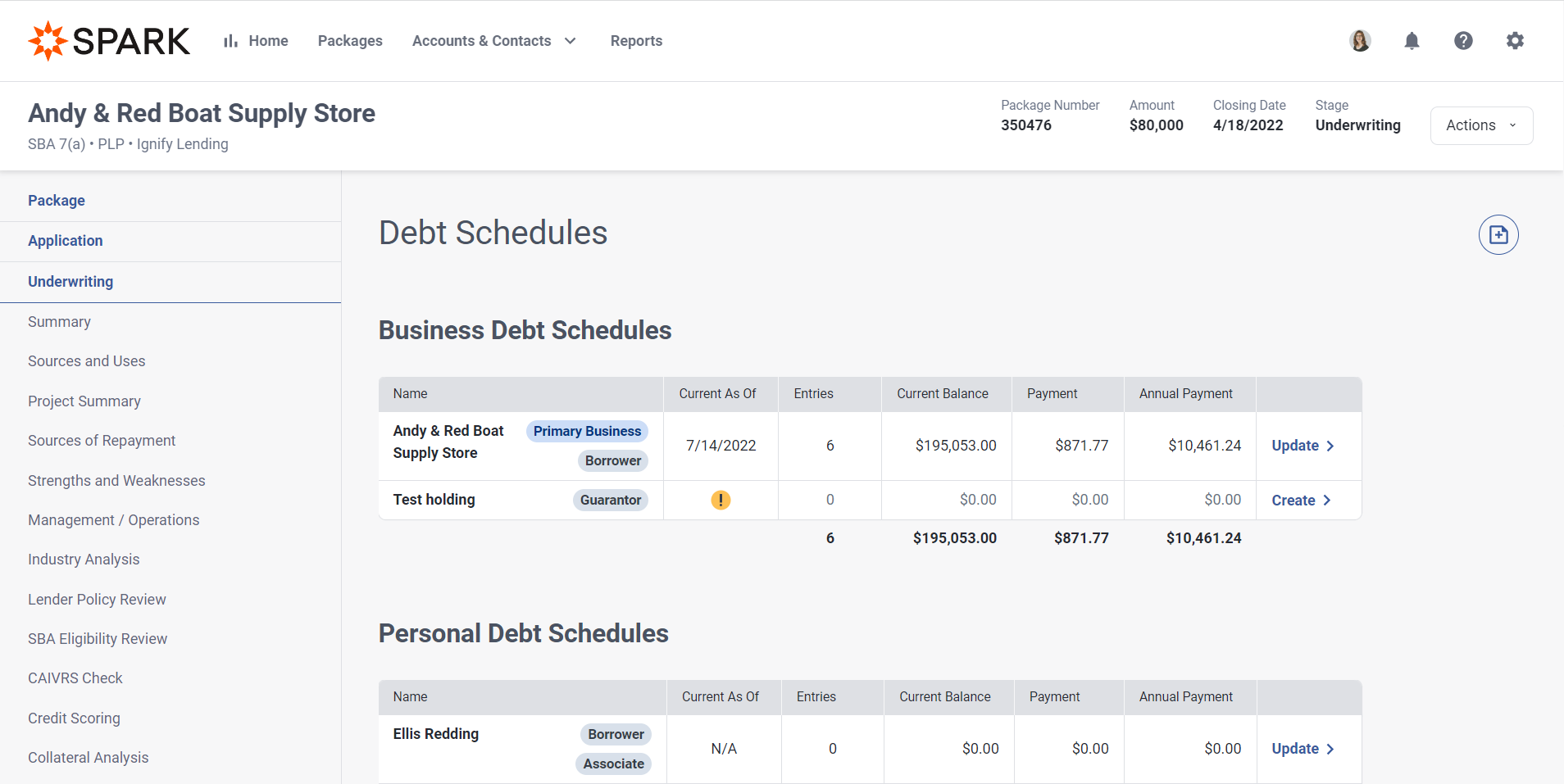 Secondary Market Sales
The following updates have been made to the Secondary Market Sales Homepage:
Data entered for Sold Loans can now be updated.

Settled Loans can now be reverted to Sold.

Data entered for Settled Loans can now be updated.
Franchise List
The list of Franchises available in SPARK has been updated to match the latest SBA Franchise Directory.
Exclude Inactive Users from User Lists
Inactive users are no longer available to be selected when assigning Tasks or configuring the new Lead Form Experience.
Project Agents Updates
Closers can now edit the supporting documentation for project agents after Form 159 has been signed up until it is submitted to the SBA. Additionally, system-generated Project Agent services and fees generated by SPARK can now be edited on the fly.
Referral Source Columns on Package Lists
Referral Source Contact, Referral Source Company, and Referral Fee fields now can be included in dashboard package lists.
Update to Prepayment Penalty Placement in the Credit Memo
The Prepayment Penalty value now appears next to Estimated Payment to ensure it is included on credit memos for non-SBA loans.
Organization of Seller Documents
Documents can now be classified for selling businesses in addition to borrowing businesses and affiliates.
What's Been Fixed
API Users and Package API – A hotfix was pushed out to resolve an error with API users receiving a 401 when attempting to access a package by ID.

Seller Badge and Business Listing – The seller badge was inadvertently removed from the business listing in a prior release.  It has been added back.

Personal Cash Flow and Negative Amounts – A hotfix was pushed out to add back support for negative personal cash flow amounts.  This fix also included a validation error for numbers that exceed 1,000,000,000,000.

Sources and Negative Source Amounts – A change has been made to require the source of funds amounts to be a positive number less than 1,000,000,000,000.

Debt Service Credit Memo Sections and Commentary – A hotfix was pushed out to resolve an issue with missing commentary and duplicated commentary in SPARK's debt service sections.

Report Export – An issue was resolved where exporting a report with one row would fail.

20% Owners and Lead Forms – Individuals that own 20% or more of the primary business will now be automatically classified as guarantors in the new lead form experience.
Find Out More
Stay tuned for the latest features and subscribe to your favorite categories. You can view our product roadmap at any time here.
If you have any feedback or questions about this release, please reach out to your Customer Success Manager or email us at support@lendwithspark.com. Your feedback will help us make SPARK the best loan origination software in the market!