DATE:

AUTHOR:

Alia Abboud, Product Manager
Release Notes
Administration
API
Applicant Portal
SBA
SPARK 7.9.4 Release Notes and Webinar
DATE:
AUTHOR: Alia Abboud, Product Manager
The SPARK 7.9.4 release is planned for Monday, July 31st after business hours. This update includes support for the latest E-Tran updates announced by the SBA.
Please join us for a release webinar on Thursday, July 27th at 11:00 AM CT, where you can see a demonstration and ask questions about the content of this release. You can view a recording of the webinar at this link.
What's New
E-Tran Updates in SPARK
We have implemented several updates to our E-Tran integration in SPARK in response to the changes announced by the SBA. The E-Tran Documents page has been renamed to E-Tran Application and reflects the latest updates.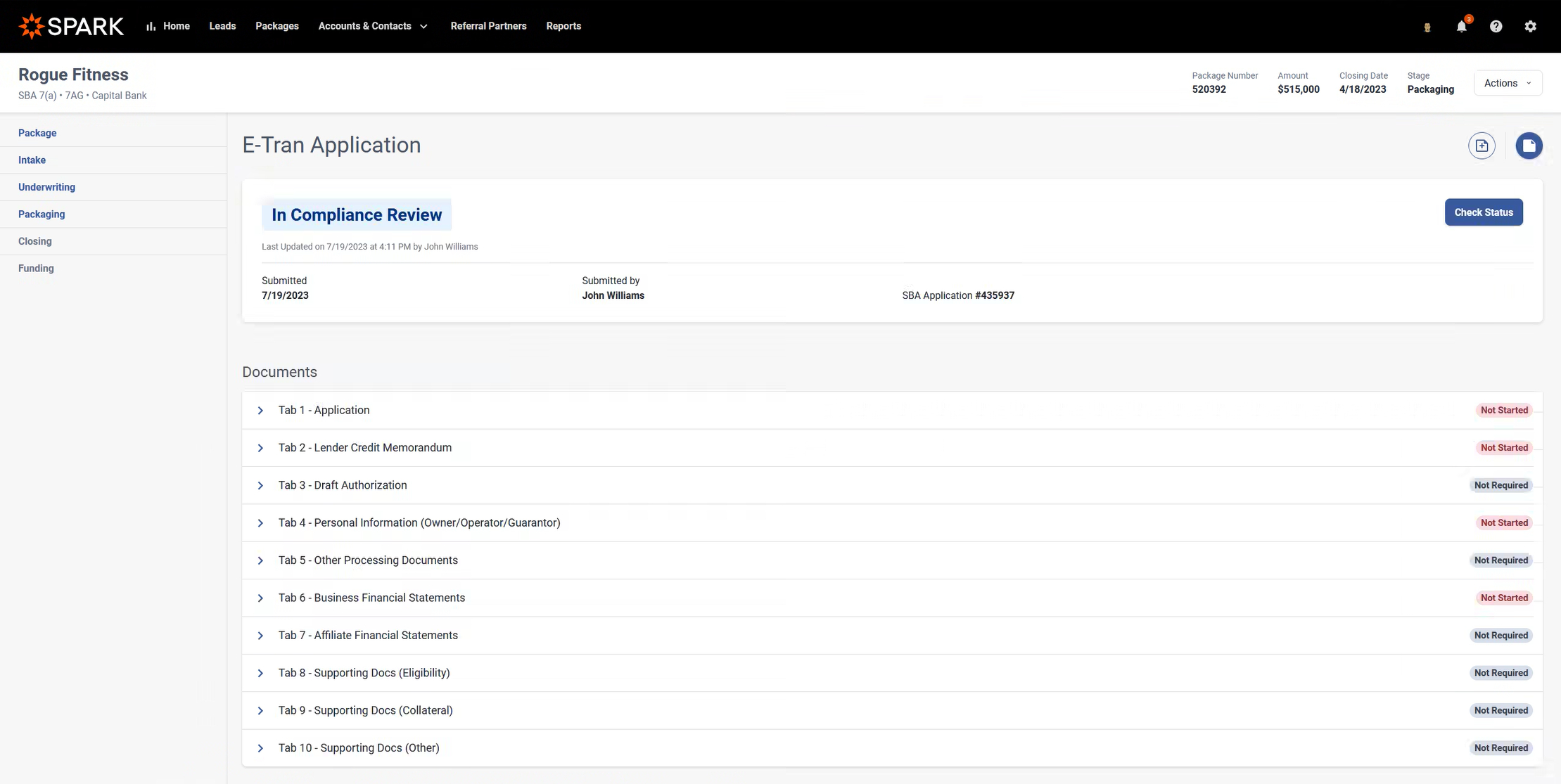 The SBA has removed the option to request an SLA score prior to submitting to E-Tran. After this release, users will no longer be able to request SLA scores, but historical SLA scores will be present in SPARK as read-only.
After submitting to E-Tran, lenders will now be required to check the application status manually. This is the result of E-Tran's requirement for Multi-Factor Authorization for security purposes, which prevents E-Tran from communicating with vendors like SPARK. Given this limitation, SPARK has created the new E-Tran Application feature, which allows users to submit to E-Tran and check the E-Tran application status. Users will see the following statuses in SPARK as the application progresses:
In Compliance Review: The SBA is validating the application against their compliance requirements.

Awaiting Documents: The application has passed the SBA's compliance review, and the SBA is ready to receive documentation.

In Review: The SBA is reviewing Documents submitted to them by non-delegated lenders.

Funded: The application has been approved by the SBA.

Withdrawn: The SBA has declined the application.

Poor Score: This status can be returned for loans at or under $500,000. There is at least one credit score that is not in an acceptable range, as determined by SBA.

Screened Out: This status can be returned for loans over $500,000. There is at least one credit score that is not in an acceptable range, as determined by SBA.
When an application is submitted to E-Tran, the user who submitted will be assigned a Task as a reminder to check the status of the application in 2 business days. In addition, a banner will display on the package to inform users that the E-Tran application is still In Compliance Review.
When an application moves out of In Compliance Review and is not Withdrawn, SPARK will automatically pull down the Terms and Conditions document for the loan and attach it to a new SBA Terms and Conditions placeholder that has been added to all SBA products. The SBA Loan Authorization placeholder has been disabled but will still be available for historical loan packages.
Delegated Lenders must now submit Documentation to the SBA for loans above $500,000. Once all documents are provided, we expect that the SBA Application Status will update to Funded.
Task Validator for Stage Changes
We have added Task validators that check for the completion of selected Tasks before permitting a package to move to the next stage.
Task Webhooks
We now support webhooks in our API when Tasks are created, updated, completed, or deleted.
Copying internal and partner users
SPARK administrators can now copy internal and partner users to create new users with the same roles and notifications.
Retiring users
Periodically, we receive requests to change user types, e.g. update an external user to a partner user. Going forward, SPARK administrators will have the option to retire a user so that they can create another user with that email address. Please use this functionality cautiously as once a user is retired they cannot be activated again.
What's Changed
When Tasks are automatically assigned by SPARK, the assignee will be notified via email if they have the 'Task Assignment' notification enabled.

The fields Revolving Term & Term Out Period will now be visible in the Terms section of an SBA Express Line of Credit's credit summary.

When an external user documents a spouse in the Applicant Portal or an internal user selects joint documentation on a package the Tax Return status will now default to joint for all years.

We are continuing our process to improve the accessibility of SPARK. This release includes accessibility updates to Business Information activities in the Applicant Portal.
What's Been Fixed
A hotfix was released to address the following document-related issues:

Some electronic signature requests created from the new documents listing resulted in document placeholders being uploaded to the wrong placeholders when a DocuSign envelope was completed.

We added back all relevant "signed document actions" for placeholders that require a signature but cannot be generated by SPARK.

A timezone issue was impacting the ability to set today's date as the signature date for a signed document.

The search function on the Lender Documents page now includes searching by the user who generated or uploaded the document.

A complete SBA Form 1919 can now be generated for businesses with over 20 owners.

A complete SBA Form 413 can now be generated if more than 6 real estate properties are present.
Find Out More
Stay tuned for the latest features and subscribe to your favorite categories. You can view our product roadmap at any time here.
If you have any feedback or questions about this release, please reach out to your Customer Success Manager or email us at support@lendwithspark.com. Your feedback will help us make SPARK the best loan origination software in the market!