DATE:

AUTHOR:

Alia Abboud, Product Manager

RELATED ROADMAP ITEMS:
Release Notes
Administration
API
Application/Intake
Closing/Funding
SBA
Security
Underwriting
SPARK 7.9.6 Release Notes
DATE:
AUTHOR: Alia Abboud, Product Manager
The SPARK 7.9.6 release is planned for Saturday, September 23rd. This update includes support for soft credit inquiries and improvements to simplify managing Authorized Users. The maintenance window will occur from 9:00 PM CT on Saturday, September 23rd through 10:00 AM CT on Sunday, September 24th.
What's New
Soft Credit Inquiries
SPARK will now support soft credit inquiries through our MeridianLink integration. This option will be available when ordering a credit report.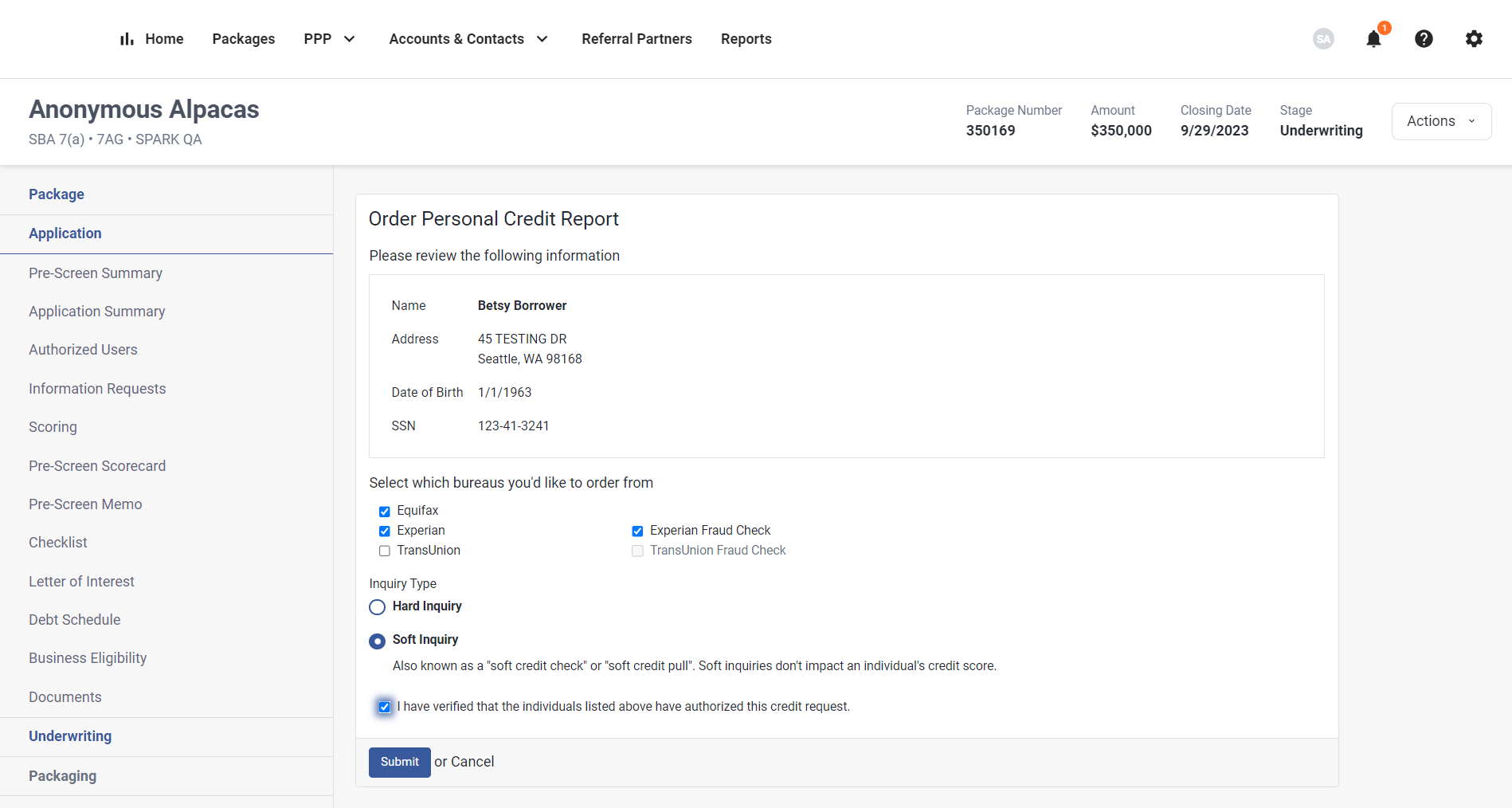 Pulling soft inquiries will require different MeridianLink account credentials than your organization uses for hard credit inquiries. If you are interested in leveraging this feature, please contact your Customer Success Manager.
E-Tran Status Available in Package Lists & Reporting
The current status of an E-Tran loan application will be available as a package list column and visible in API reporting.
Name Suffix Field for Individuals
Support for documenting a person's name suffix has been added to the following:
API

Contacts

E-Tran Submissions

Individuals

Information Requests

Lead Forms

Referred Packages

Display Names throughout SPARK
This was a request from a few customers that will allow names to be documented more accurately for E-Tran submissions and Scoring.
CFPB 1071 Reporting
We have added support for the Consumer Financial Protection Bureau 1071 filing, which is a CSV format. This is available in Configuration for SPARK Administrators. If you have any questions about the details of this feature, please reach out to your Customer Success Manager.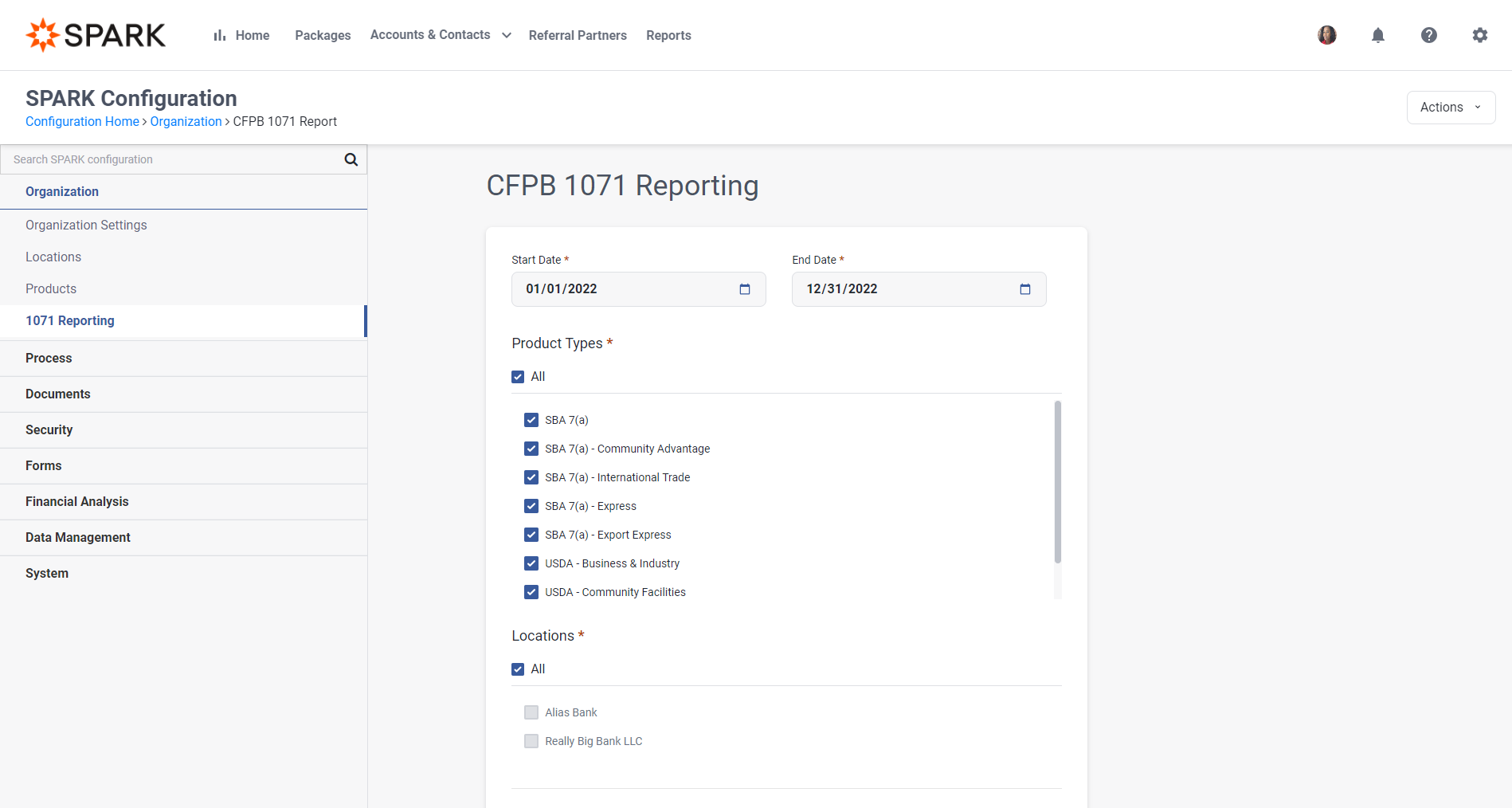 Logging and Reporting of User Login IP Addresses
SPARK Security Admins can now view a log of IP Addresses by user login under Security > User IP Address Log.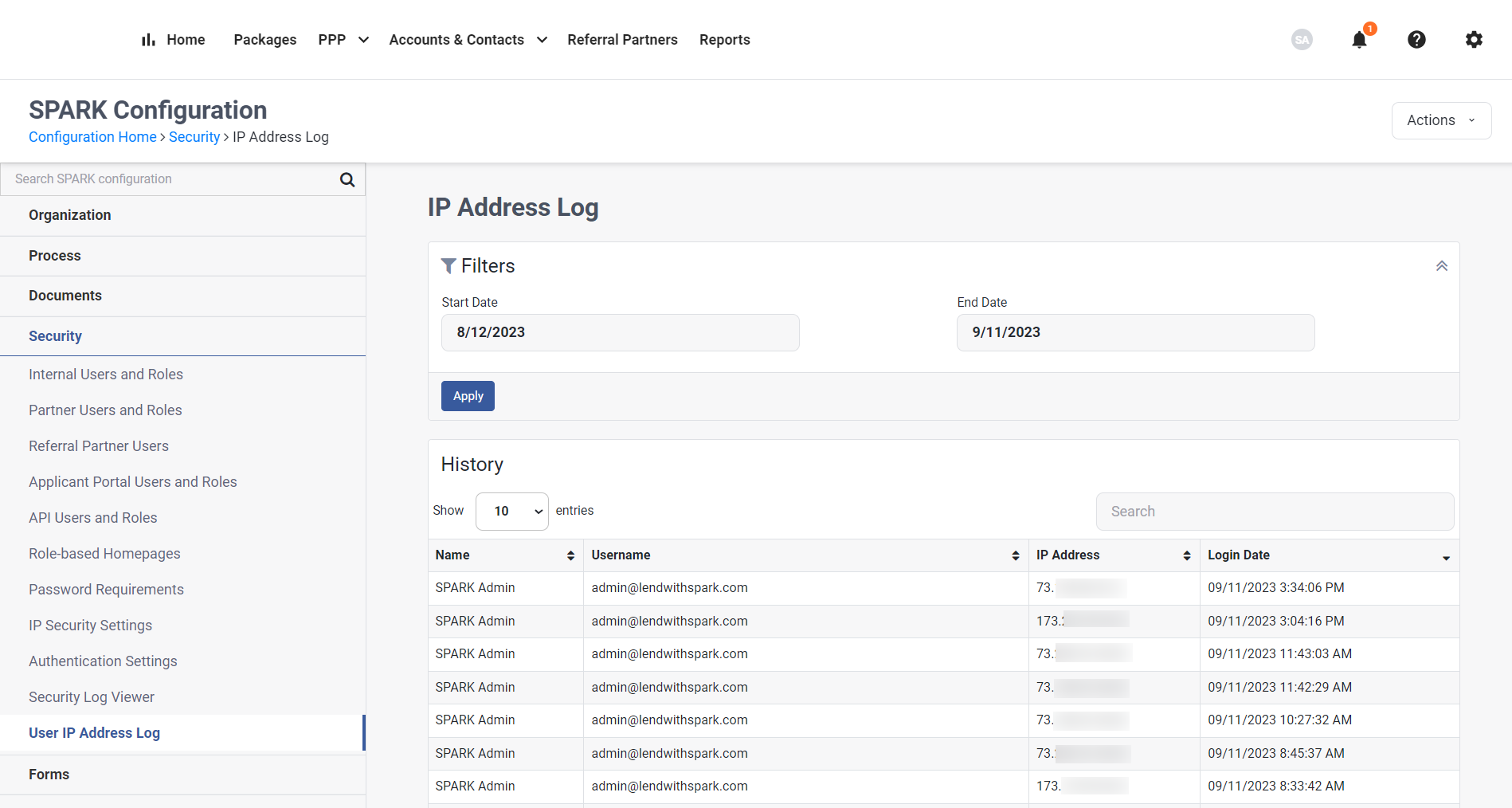 What's Changed
Updates to Authorized Users
Our Support desk frequently answers questions about managing Authorized Users. We have made some visual changes to this page to improve the visibility of both uninvited Individuals and Referral Partners on the package. We have also improved the workflow of adding a 3rd Party User to the package.
We have updated the following terminology:
External Users are now Applicant Portal Users. You will see this terminology updated throughout SPARK.

External User Types are now 3rd Party User Types.
We always welcome feedback on recently released features! For Authorized Users, you can provide feedback directly to the SPARK Product Team here.
Improvements to ordering a LexisNexis Score
We have improved the workflow when ordering a LexisNexis score to streamline the process of ordering a report for a single business or individual.
Document Listing Layout
In response to user feedback following our previous updates to Documents and Checklists, we have updated the layout to allow for more placeholders to be viewed at once and improved formatting for various screen sizes.
Improvements to Credit Summary Formatting
We have made some minor changes to our Credit Summary output to better handle long tables in Financial Analysis.
Document Upload Limit increased to 100 MB
We have expanded the limit for documents uploaded to SPARK to 100 MB.
Updated DSC Tile Labels in Decision Tracking
In Decision Tracking, we have updated the labels for the debt service coverage ratios for clarity. They now read DSC, Pro Forma DSC, and Global DSC.
What's Been Fixed
A hotfix was released to address an issue with validating the maximum package / loan amount. Additional sources of funds were incorrectly impacting the validation.

A hotfix was released to address an issue with DocuSign authentication for customers in certain DocuSign regions.

Several issues related to SBA Eligibility changes for SOP 50 10 7 that were addressed in a hotfix:

Copying packages from SOP 50 10 6 and earlier.

The updated business acquisition section was not properly displayed in credit memos.

The updated refinance section was not properly displayed in credit memos.

We fixed an issue where notes added to the new document listing were including links to an invalid page.

E-Tran now requires personal property hazard insurance when real estate is taken as collateral. We have updated the logic in the Insurance section of SPARK to allow lenders to include personal property hazard insurance when there is real estate taken as collateral.

Notifications that are specific to referral partners were shown in the list of available notifications for internal users. These notifications are no longer visible to internal users.

SBA Form 1050 has been updated to better handle loans with multiple types of refinances (e.g. same institution debt, not same institution debt, etc.).
Find Out More
Stay tuned for the latest features and subscribe to your favorite categories. You can view our product roadmap at any time here.
If you have any feedback or questions about this release, please reach out to your Customer Success Manager or email us at support@lendwithspark.com. Your feedback will help us make SPARK the best loan origination software in the market!