DATE:

AUTHOR:

Alia Abboud, Product Manager
Release Notes
API
Application/Intake
Applicant Portal
Closing/Funding
SBA
Underwriting
SPARK 7.9 Release Notes and Webinar
DATE:
AUTHOR: Alia Abboud, Product Manager
SPARK 7.9 will be released on Saturday, December 10th. Version 7.9 includes more powerful lead forms as well as several improvements to usability.
Please join us for the SPARK 7.9 release webinar on Thursday, December 8th at 11:00 AM CST, where you can see a demonstration of new features and ask questions about the content of this release. You can view a recording of the webinar at this link.
What's New
Leads That Are Faster, More Flexible, and More Transparent
In SPARK 7.9, leads have been redesigned to allow your organization to review, decision, and pursue leads more quickly and easily.
First, additional content within the lead form allows your organization to capture exactly the initial information you want. Once a lead is submitted, the applicant can immediately create a SPARK account and begin completing a SPARK package, saving sales staff valuable time. Additionally, improved lead notifications and dashboards allow your organization to track and advance leads more efficiently.
Capture the Information You Need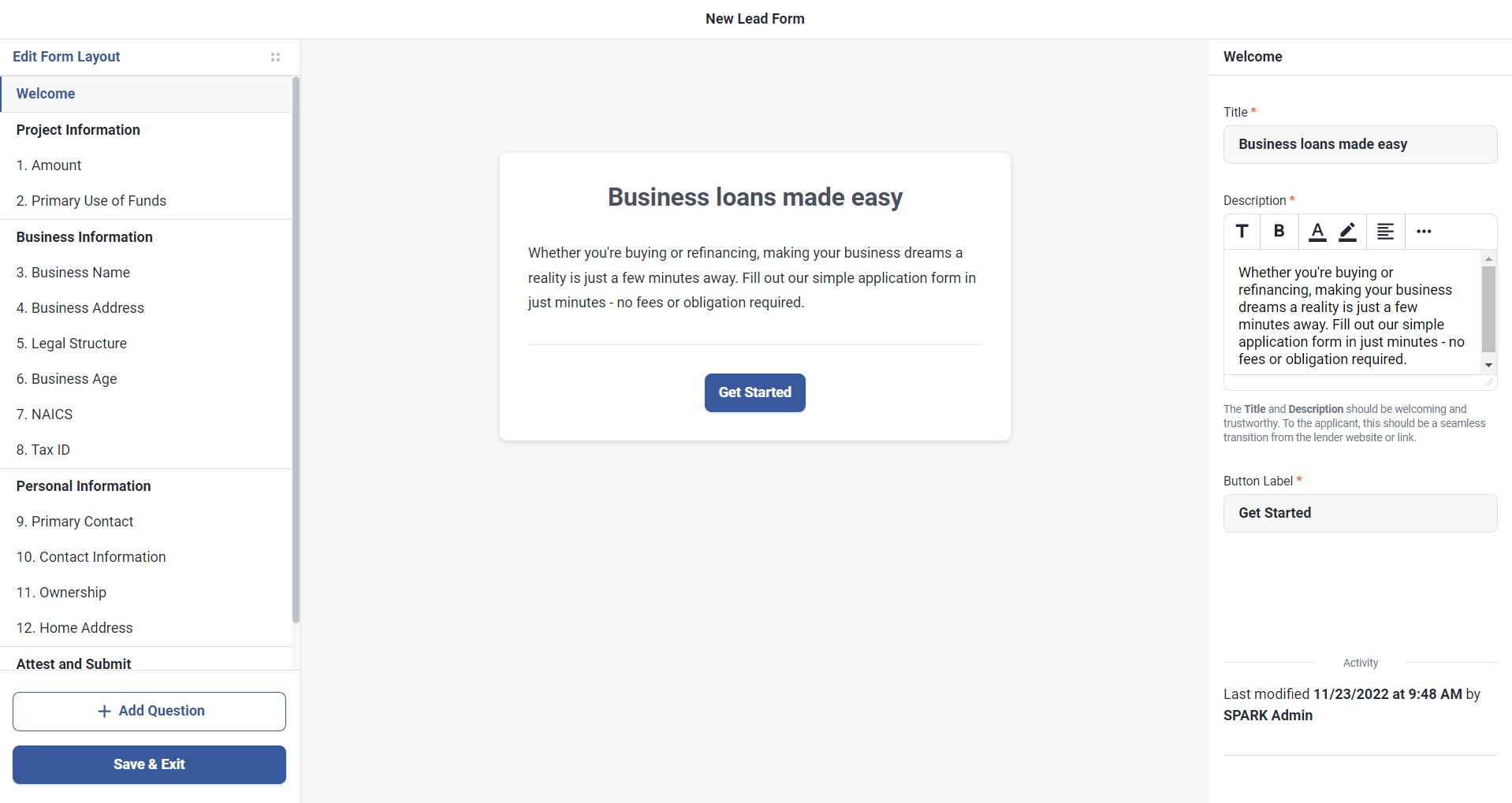 New templates provide a simplified lead process for your applicants by grouping questions related to project, business, and personal information. The questions themselves capture a range of information, both required and optional, which flows directly to a SPARK package. And by including an active date range for lead forms, you have more control over when leads can be submitted.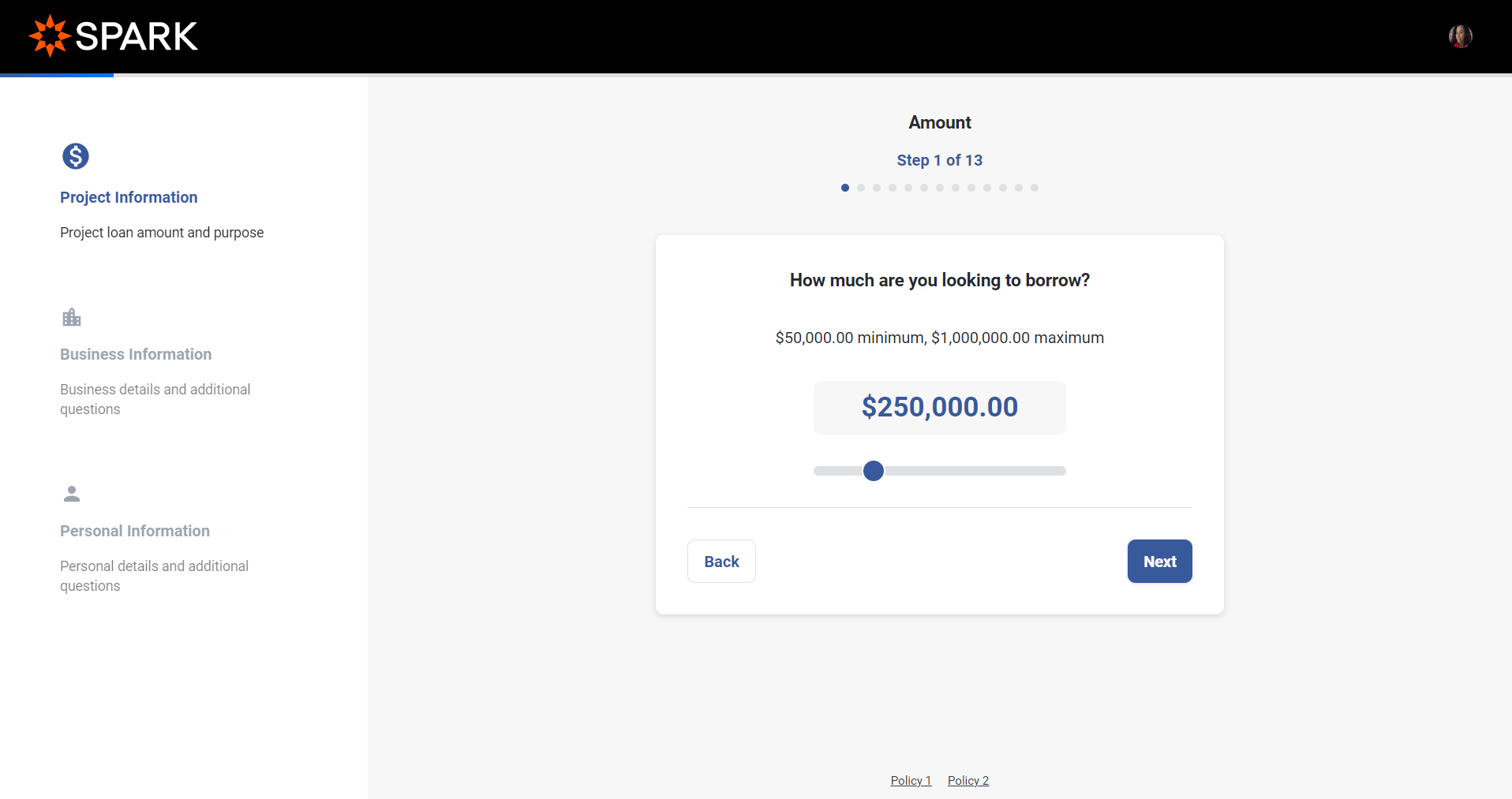 Allow Lead Applicants to Continue the Process Instantly
You can choose to allow applicants to join your organization's SPARK instance immediately upon submitting a lead form, removing the need for sales staff to review each lead and manually invite applicants to SPARK.
Additionally, you can choose to automatically assign an Information Request to an applicant upon lead submission, allowing them to provide even more information for review.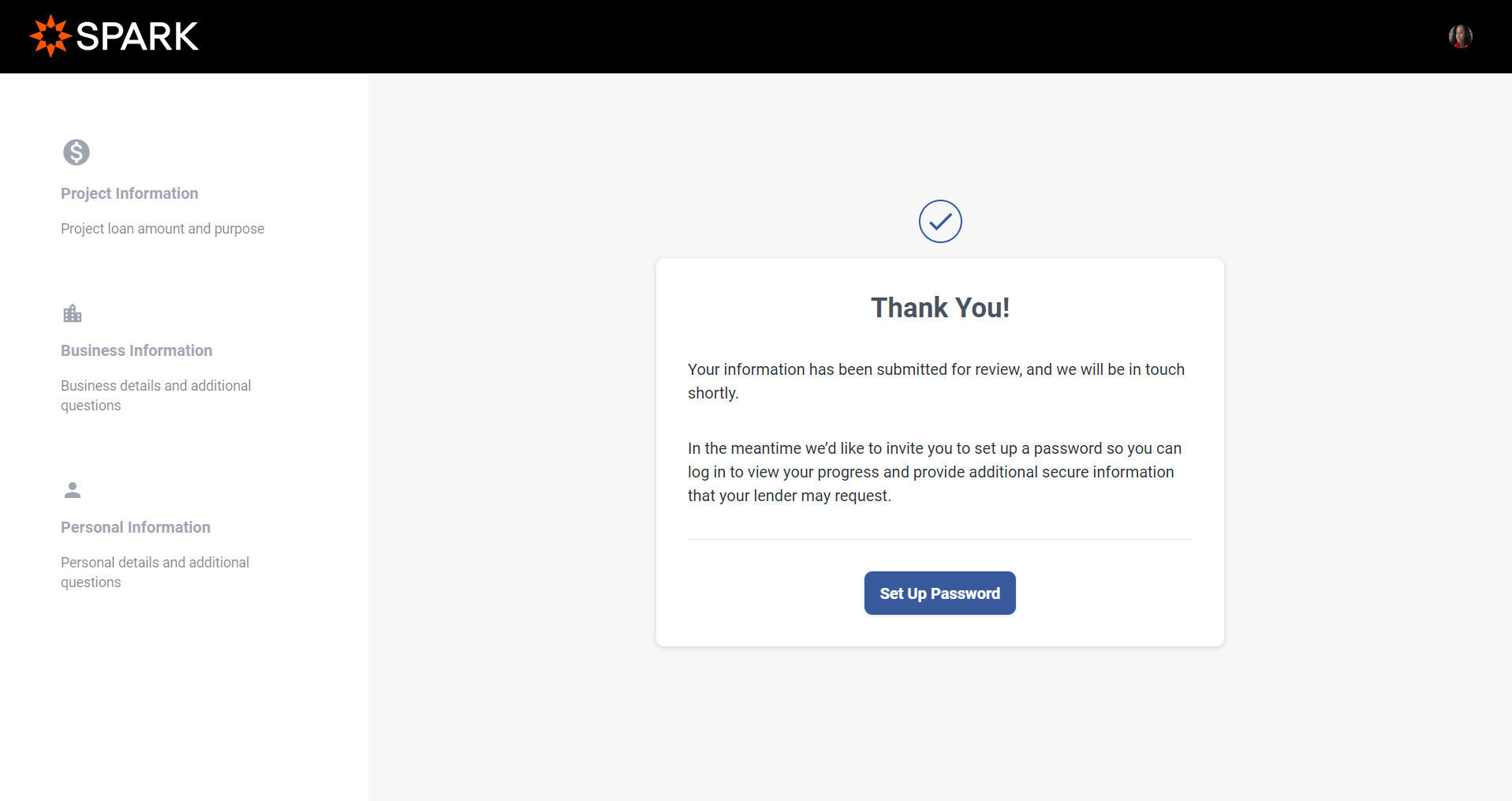 Monitor Lead Activity with New Notifications and Dashboards
SPARK 7.9 includes several new features to help you manage and monitor leads for your organization.
You can create unique lead links for each user, and leads submitted via those links will be assigned automatically to the link owner. Upon submission, customized notification emails can be sent to both the lender and the applicant confirming submission and outlining the next steps.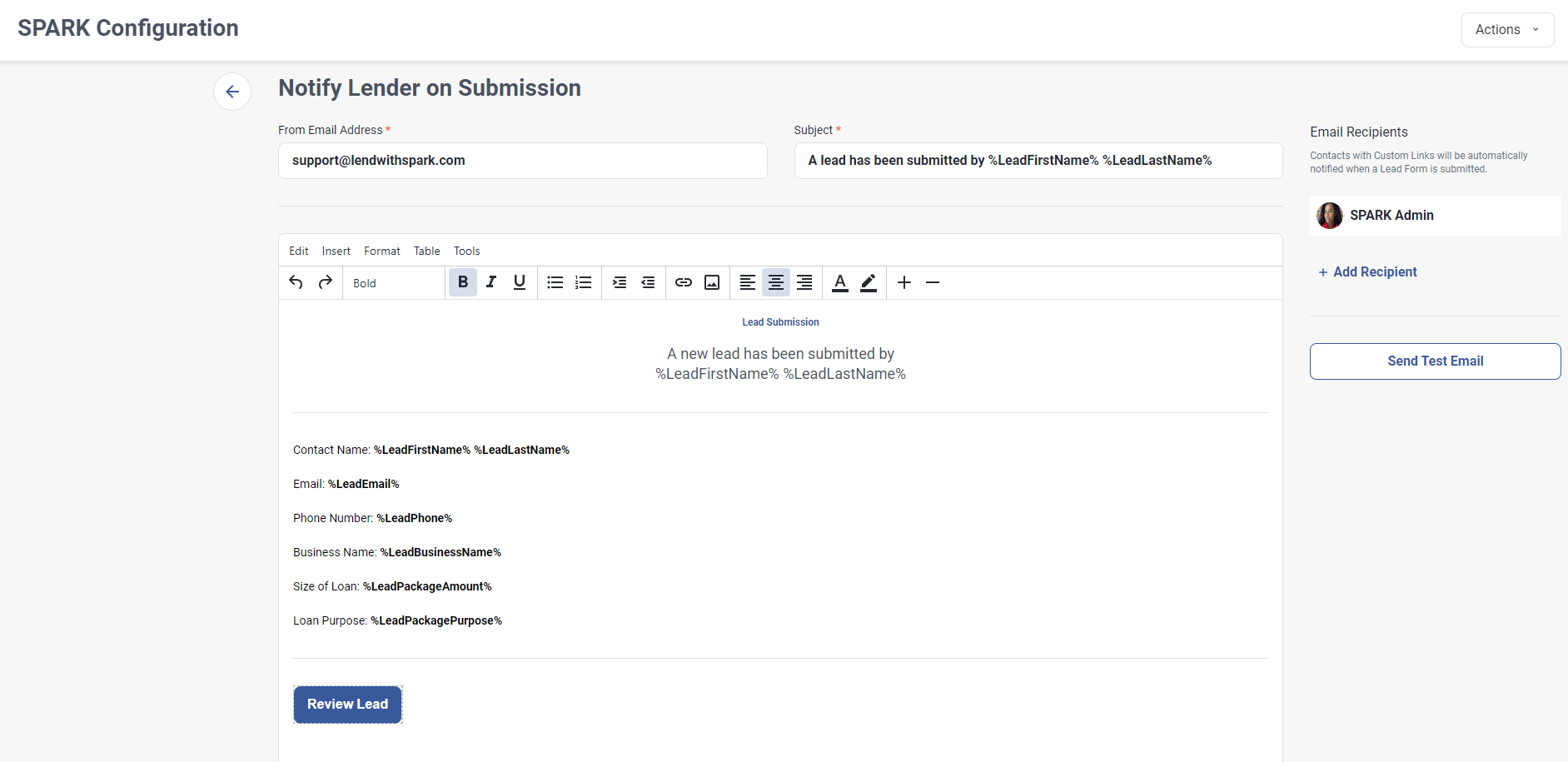 Finally, three new dashboards are available to manage incoming leads: Lead Dashboard, Lead Manager Dashboard, and Lead & Intake Manager Dashboard.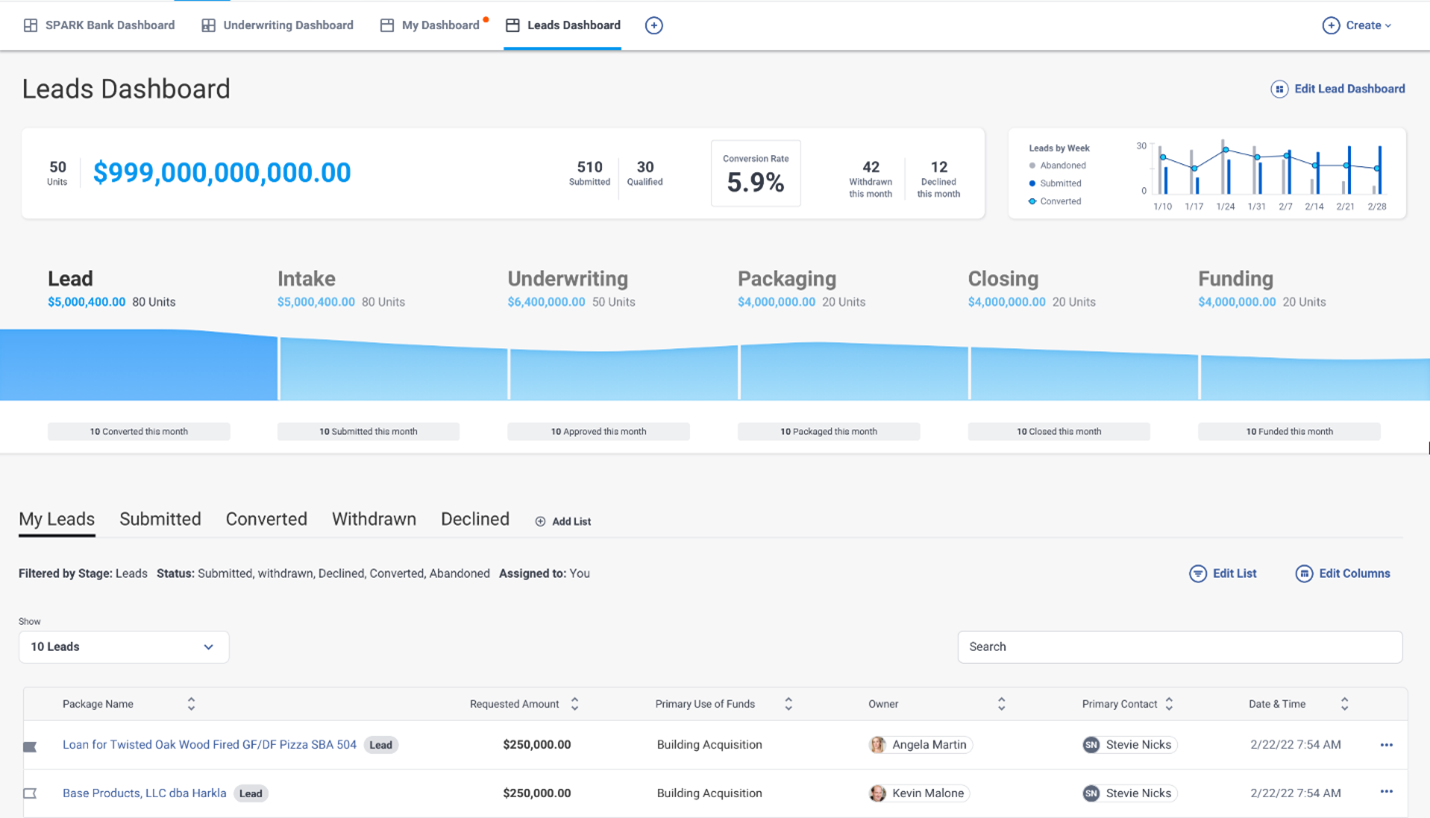 Note: These dashboards are available only when using the new leads process. See below for more information. 
Leads Configuration and Technical Information
We at SPARK are excited to introduce this new lead experience and we encourage you to contact your Customer Success Manager to optimize leads for your organization!
As part of the new leads process, a new SPARK stage has been introduced: Lead. New packages can be created in SPARK in either the Lead or Intake stage.
Note that existing lead forms and processes will continue to be available, and you can choose whether your organization uses the existing process, the new process, or both.
The new leads experience is part of SPARK's ongoing effort to improve the Intake process via automation. Please take a look at our Ideas Under Consideration to vote on which automated processes you would like to see next in SPARK!
New Package Summary Format for Internal Users
We have updated the package summary to improve its usability and provide more at-a-glance information about the package. The information now listed here includes an overview of the primary business & primary contact, To Dos, and Sources & Uses of Funds.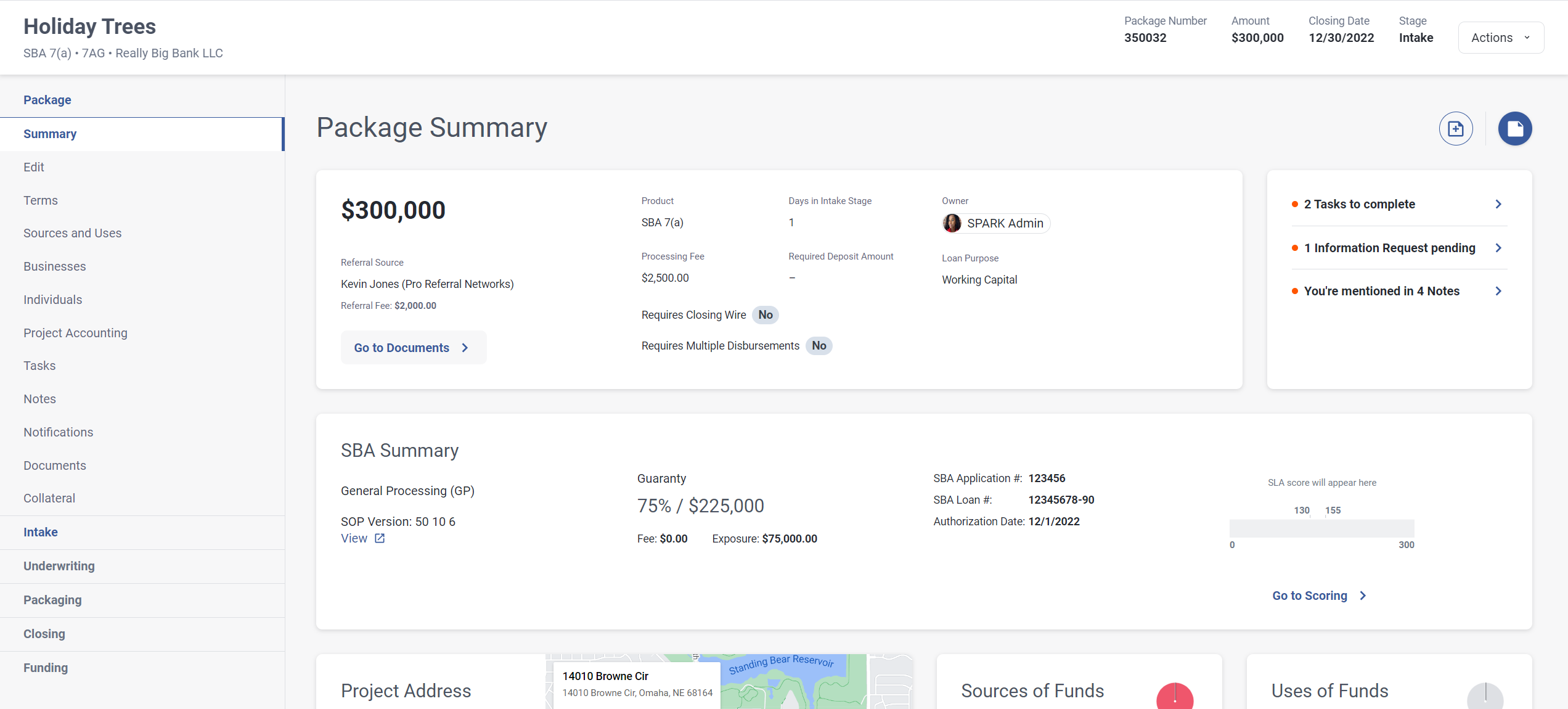 Updated RMA Comparison Data
We have added 2022 RMA comparison data to Financial Analysis. This dataset includes the new 2022 NAICS codes.
Converting & Deleting Personal Financial Statements
Users can now perform the following actions on a Personal Financial Statement within Guarantor Analysis:
Convert an individual PFS to joint if the individual has a spouse on the package.

Convert a joint PFS to individual.

Delete a PFS.
Uptime Monitor
SPARK administrative users can now access an Uptime Monitor in Configuration under System > Uptime Monitor to track SPARK uptime.
What's Changed
CAIVRS Check is now optional for limited guarantors.

The date of birth is now included on the credit authorization activity due to changes with OFAC requiring the individual's date of birth.

The date of birth is now being sent to the personal credit provider due to a change with OFAC requiring the individual's date of birth.

Withdrawing, declining, and restoring packages will now create an automatic note in package activity.

The NAICS code is now being passed as the SIC code in LaserPro extracts.

The maximum length of a formula in financial analysis has been changed from 250 to 500.

The package API now includes an indicator showing if the primary financing source is a Line of Credit.

The package API now includes the payment frequency for the primary financing source.

The "Loan Amount" column in package lists has now been updated to "Amount."

If a package includes a seller financing source of funds without a standby agreement it will be mapped to "Subordinate Funding" when sent to E-Tran.

Document Collection activities within an Information Request now allow an applicant to replace a document even if the document being replaced wasn't originally uploaded by that user. This updated behavior matches how the document listing works in the applicant portal.

Negative deposits are no longer supported in Project Accounting.

The resolved "value" for LexisNexis is now required. You will no longer be able to clear the value as this would cause issues with fields required for people, businesses, and addresses.

The Debt Service section within the Credit Summary now shows totals for add backs and total debt service.

Individual LexisNexis risk scores are now included in the Credit Checks Credit Summary section.

The internal security permissions report has been replaced by a user report in an Excel format. The internal role report is now formatted in Excel as well.

Some minor improvements have been made to the look and feel of the Applicant Portal.

SBA Eligibility logic has been updated to include Occupancy and Leasing when the use(s) of funds include a business acquisition.
What's Been Fixed
Changing the visibility of a 12-month cash flow statement will now only hide it in the Credit Summary.

Autofill of previously used 3rd party information in the disbursement manager was causing a validation warning even though the required information was automatically populated.

Copying documents and tasks now behaves as expected when attempting to copy a locked package.

Converting a lead to a product without any Information Requests no longer causes an error.

Attempting to combine password-protected PDFs no longer causes an error.

Prior to this release, if an insured person was added to a package and "other" was selected, the field for entering the amount of life insurance was not enabled. This has been resolved.

If commercial real estate collateral is deleted after completing the Insurance Requirements section, real estate hazard insurance no longer appears as applicable on the Credit Summary.

When attempting to create a loan modification, an error no longer occurs when the primary business does not have a current address documented.

An error no longer occurs when attempting to generate SBA Form 601 when the primary business is missing a current address.

Updating an existing document collection activity within an Information Request no longer causes the originally selected documents to be cleared.

The Credit Authorization activity now validates the length of an SSN.

An error no longer occurs when attempting to delete an individual that was selected as a spouse for multiple individuals. SPARK no longer allows one individual to be a spouse for multiple individuals on a package.

The Add Referral Partner Contact page now lists referral partner companies in alphabetical order.

The Download Referral Agreement button now behaves as expected.

If an individual answers a Form 1919 question that triggers a character determination and then that question is later updated to no longer require a character determination after the SBA Eligibility section is completed, Form 1920 no longer shows the questions related to a character determination as being checked.

Adding a document to a document listing that included an ampersand (&) no longer results in a title that includes invalid characters.

The Underserved Market section within a Credit Summary now indicates whether the primary business borrower is a new business (business in operation for 2 years or less).

If a project address does not resolve to a valid address in PolicyMap, the demographics will now be cleared out.

Dates are now properly validated on a personal dashboard package list.
Find Out More
Stay tuned for the latest features and subscribe to your favorite categories. You can view our product roadmap at any time here.
If you have any feedback or questions about this release, please reach out to your Customer Success Manager or email us at support@lendwithspark.com. Your feedback will help us make SPARK the best loan origination software in the market!