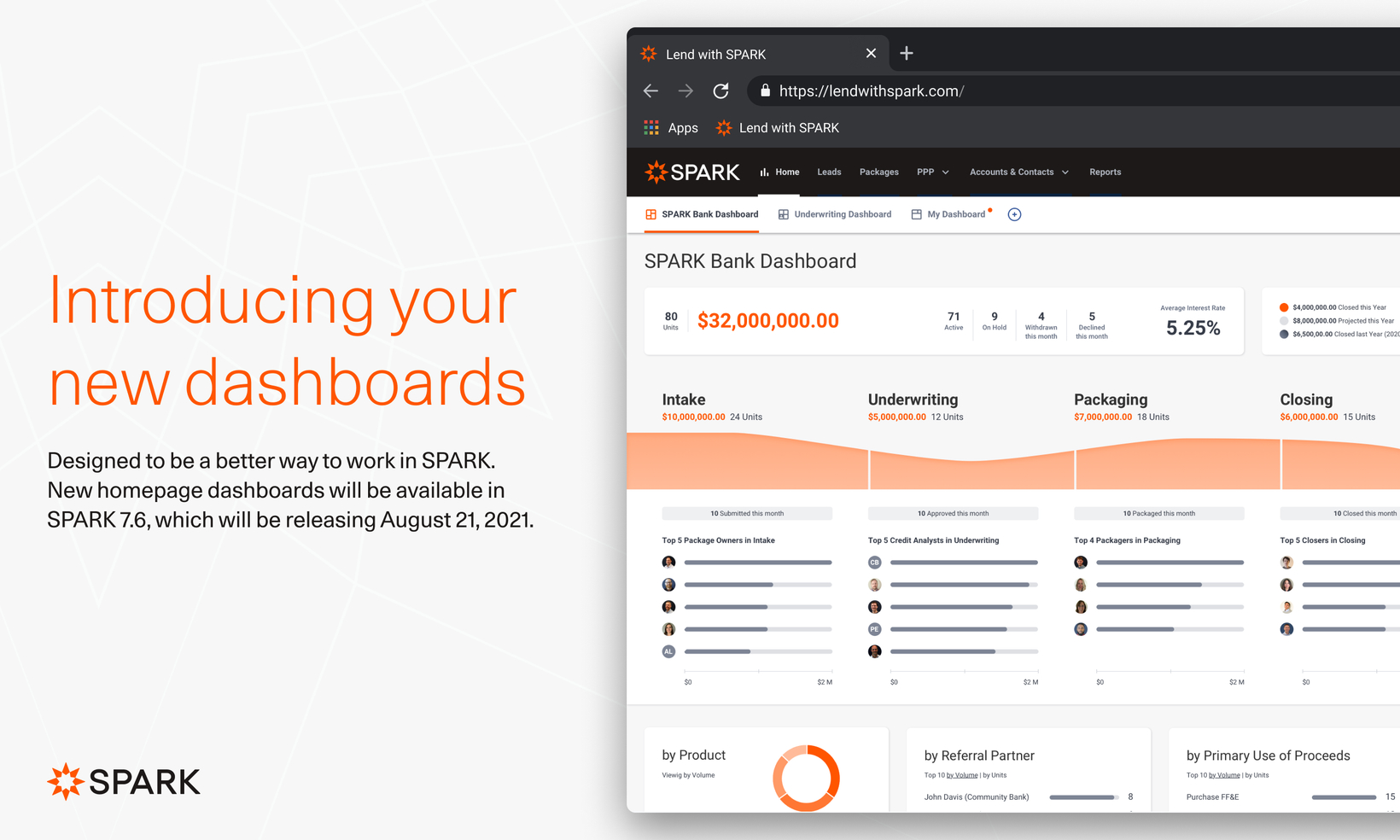 DATE:

AUTHOR:

The SPARK team
Welcome to the New SPARK Experience
DATE:
AUTHOR: The SPARK team
In the past year, we've spent countless hours interviewing you about your experience in SPARK and how we can improve it. With this coming release of SPARK 7.6, we'll be introducing new homepage dashboards - a brand new and much improved work experience in SPARK.
Dashboards Overview
As mentioned in the SPARK 7.6 release notes, the hallmark feature in this release is a brand new homepage experience. Informed by our interviews with you, we designed these dashboards to surface the most relevant details about your loan package, work assignments, and business-level details. These dashboards were designed to help every user maximize their experience in SPARK, and we can't wait for you to dive in and explore these new dashboards.
Getting Started in Dashboards
Every user can access these new dashboards from their legacy homepages. After SPARK 7.6 is released, you'll be prompted to create a new dashboard. Simply log into SPARK, follow the opt in prompt, and start working in your brand new dashboard. You can customize each dashboard exactly to your liking, and you can also create multiple dashboards that serve different purposes.
Dashboard Types
Our dashboards come ready to use right out of the box. However, based on your role and permissions within your organization, you will have access to three primary dashboard types: Personal, Manager, and Executive.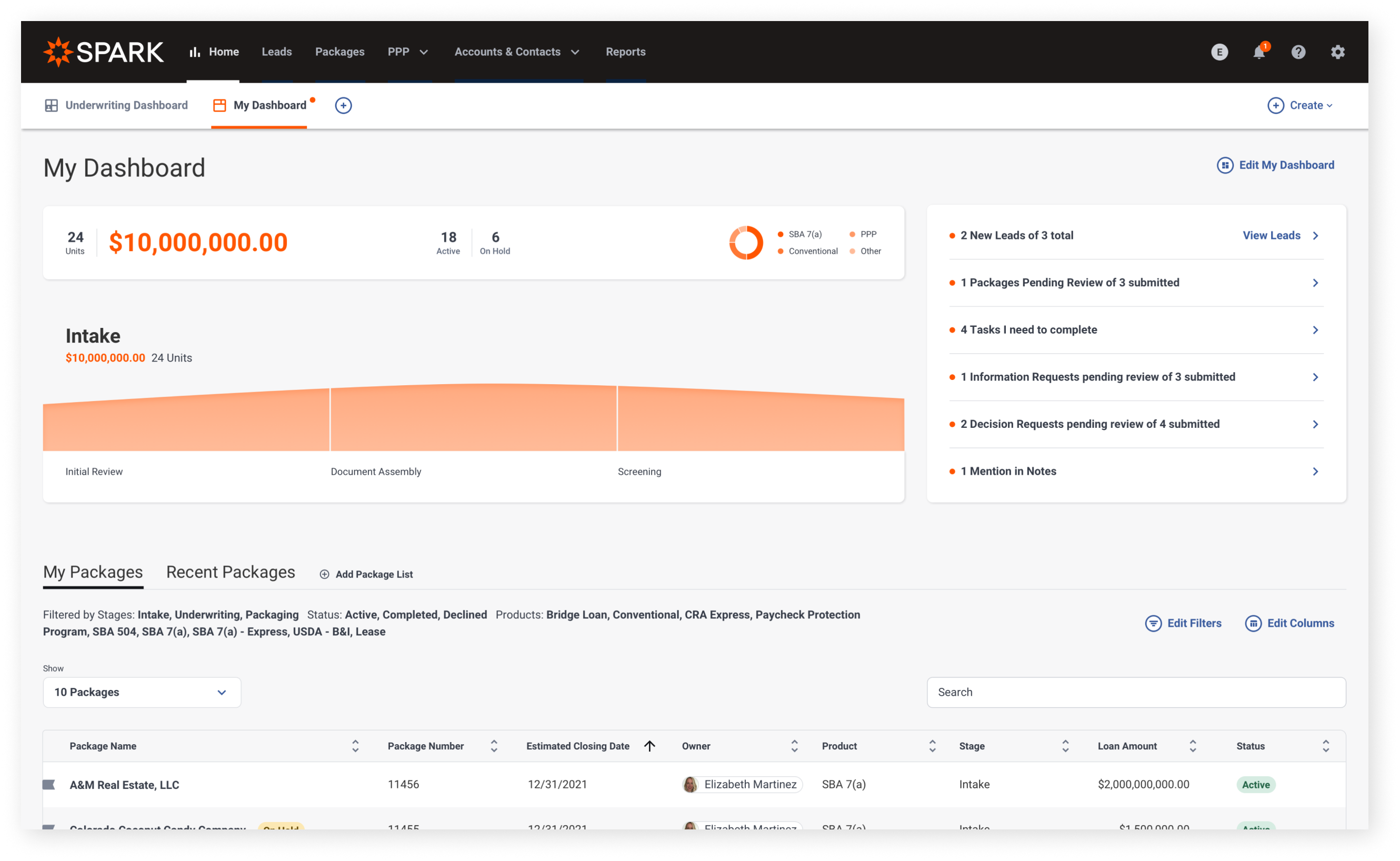 Personal Dashboards
Every SPARK user has access to create a personal dashboard, which better organizes the everyday workflow in the loan origination process. The pipeline chart tells you exactly where your packages are in your primary working stage, and we've also provided a helpful breakdown of your packages by product type.
In addition to the pipeline chart, we're introducing a new feature to accompany your dashboards, which we're calling To Do's. The To Do's feature aggregates your relevant, assigned tasks into one easily accessible feature on your dashboard, and clicking any of your To Do items will allow you to easily navigate to the desired page in SPARK or quickly take action on a package. Moving a package through each stage has never been easier with this new To Do's feature!
In addition to new charts and features, we've completed some much needed improvements to the package list. With the new personal dashboards in SPARK, you can now easily customize your package list by Stage, Product, Status, and Date. You can also add other package list columns and reorganize them in a few intuitive steps. We've started you with two basic package lists, My Packages and Recent Packages, but you can always create more package lists and organize them in any order you'd like. Simply click and hold the package list title, and drag them into the order you wish to see them.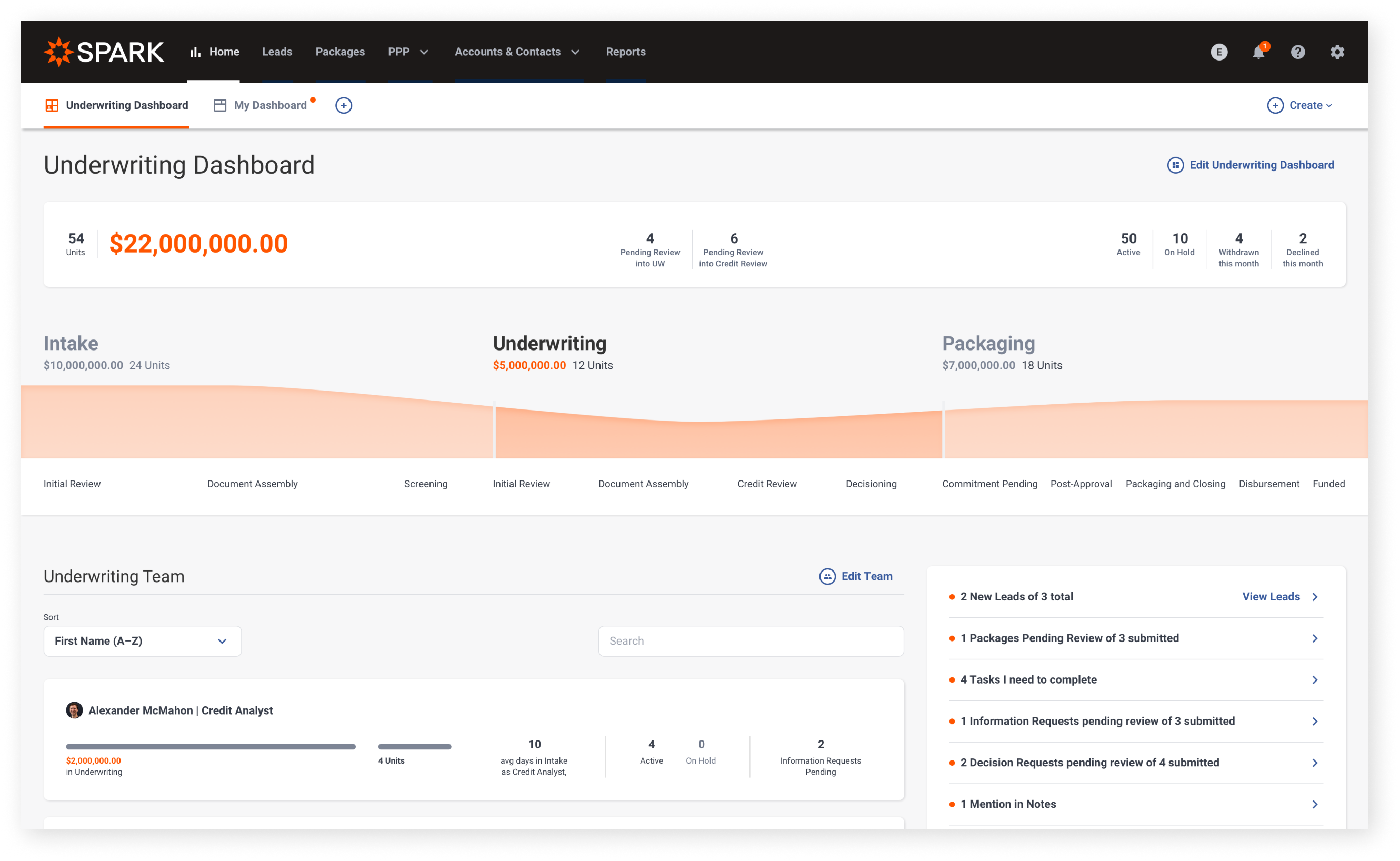 Manager Dashboards
If you manage a team for your lending business, you're in luck. Managers will have access to Manager Dashboards, which help you organize your team and stay on track within any stage in SPARK. You will also find a few previously mentioned features in these dashboards, including a pipeline chart and a To Do's list. Manager Dashboards require certain permissions provided by your SPARK admin, but once you have access, you'll be able to customize almost every detail of your dashboard.
As a manager, you will now have the ability to create a team in SPARK. With this feature, you can easily monitor your team member's capacity and the packages assigned to them. We surfaced relevant information that makes it easier for you to assign work, including volume and units assigned to each team member, along with the average days in stage, active and on hold packages, and information requests pending of each team member. With this new feature, it's now easier than ever to assign and review work within SPARK.
Executive Dashboards
Executive Dashboards provide company executives with the highest level details of your loan origination practice in SPARK. Quickly find out how many packages are in each stage of your business, from Intake all the way through Funding. We've also provided other breakdowns of your business, including summaries by:
Product - visually identify which products make up the most of your portfolio in SPARK.

Referral Partners - find out what relationships drive business to you.

Primary Use of Proceeds - discover what your loan proceeds are being used for.

Franchise - monitor the top franchises in your portfolio.
You can also include these other charts in your Executive Dashboards:
NAICS Code

Lender

CDFI Investment Area

Underserved Markets

Owner Demographics
As with other dashboards, Executive Dashboards are customizable. Choose to view your business by units (#) or volume ($), Stage, and Product. You can also select which charts you'd like to appear on your dashboard.
What's Next
In one of our next releases, we'll introduce a new feature that will allow you to communicate directly in SPARK. We heard your feedback, and we're now in the process of creating a feature that will allow you to write a note on any page in SPARK, tag your team members, and converse with them on important package details. Instead of using email, Teams, and Slack for internal communications, you will now be able organize those communications all under one loan origination system.
We're continuously exploring ways to provide every user, manager, and executive with the best user experience and most useful information as you work in SPARK. If you have any feedback or other useful data you'd like us to surface on your dashboard, please reach out to your favorite CSM, or email us at support@lendwithspark.com. Help us make SPARK the best loan origination software in the market!